Yvette Marquez-Sharpnack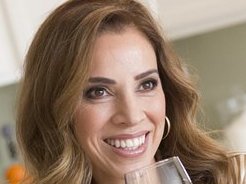 Did you know?
Muy Bueno was listed #69 in the Top 100 Food Bloggers of 2013 by Babble.com. Best Food Blogs of 2013, by The Latin Kitchen. And Yvette was named one of the Latina Bloggers You Must Know in 2014 by Latina magazine.
Yvette's Featured Recipe
Yvette Marquez-Sharpnack is an author, graphic designer, food blogger, vlogger, and recipe developer in Denver, Colorado. She was raised in El Paso, Texas and draws culinary inspiration from her grandmother's old-world northern Mexican recipes and her mother's comforting south of the border home-style dishes. Though she writes primarily about her culinary adventures on her blog, Muy Bueno, she also is a professional recipe developer, on-camera host, and is the co-author of Muy Bueno: Three Generations of Authentic Mexican Flavor. 

Yvette combined her passion for Mexican food with her graphic design talent to create Muy Bueno to catalog her family's recipes. 

Besides her blog, Yvette has also been featured in Latina magazine, People en Español, and the websites of NBC Latino, The Pioneer Woman, SAVEUR, Siempre Mujer, and Gourmet, among others. She has also been on several radio and TV shows.

Yvette is a brand ambassador and develops original recipes for a number of brands. In spring 2015, she is excited to co-author her second book Latin Twist: Traditional and Modern Cocktails.

Follow her on Twitter @muybuenocooking.