Tony Gemignani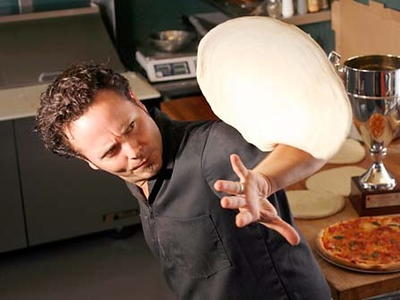 Did you know?
In 1995 Tony entered — and won! — his first pizza throwing competition in Las Vegas. He was 18 years old. He went on to win the competition in 1996 and 1997 to become the best pizza thrower in the world.
Tony's Featured Recipe
When, sometime in the 1990s, pizza-tossing champion Tony Gemignani and his brother Frank became partners in California's Pyzano's Pizzeria, little did they expect to make pizza history. Since, the pizzeria has been named one of the Top 10 Pizza destinations in the nation by the Travel Channel and receives regular awards. Pizza afionados from all over the world make pilgrimages to Castro Valley to sample Tony's creations.
After winning three pizza throwing competitions in a row in Las Vegas in the 1990s, Tony toured the world tossing pizzas. He was a guest on television programs such as the Tonight Show with Jay Leno, Good Morning America, the CBS Early Show, the Today Show, CNN and the Food Network. Pizzerias from around the world asked him to make appearances and train staff. Celebrity pizza tosses rolled in, too, and Tony tossed dough with stars such as Michael Douglas, James Caan, Steve Young, Howie Mandel, Francis Ford Coppola and Robert Duvall.
Tony worked with companies such as Marriott, Sun Microsystems, and Disney and performed at grand openings and world movie premiere parties. He also participated in many charity events for organizations such as Meals on Wheels and camps for kids with cancer.
Tony trained pizza chefs in countries such as Thailand, Belgium, Italy, Germany, Sicily, and England, as well as across the United States. He developed instructional videos called Throw like the Pro's, which sold worldwide, and today many pizza throwers rely on the Tony G method for tossing dough.
As he worked with pizza makers from around the world, the menu at his pizzeria, Pyzano's, became a lesson in "pizza geography." Drawing on his knowledge of global pizza and recipe development, Tony became a teacher at some of the finest cooking schools in California and Oregon.
In 2000, Tony was asked to compete at the World Pizza Championships in Italy. He won two consecutive years in 2000 and 2001, and became the first American to win in Italy's World Championships. As a five-time world champion, he became a judge and the coach/co-founder of the US Pizza Team. He led the U.S. team for three years before departing to form the World Pizza Champions, Americas # 1 Pizza Team. Today he is a nine-time world champion.
In 2006, Tony and his teammates were showcased in the documentary Pizza the Movie, which was shown at eight major film festivals. Tony is also a two-time Food Network Gold Medalist and was invited on the Food Networks/Guinness Pizza Champions Challenge. He won first place for Best Pizza in the U.S. and was inducted into the Guinness Book of World Records twice for "Biggest Pizza" and "Most Consecutive Rolls Across the Shoulders." In 2007, Tony was the first American to win a baking championship at the World Pizza Cup in Naples, Italy, when he brought home a gold cup for then best Neapolitan pizza in the world. This made Tony a nine-time World Champion.
Tony collaborated with cookbook writer Diane Morgan on Pizza, which was showcased on the Today Show, The Rachael Ray Show and Emeril Live
Not surprisingly, Tony is recognized as one of the most popular and influential figures in the pizza industry. He lives in California.