Tony Abou-Ganim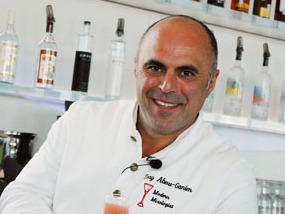 Did you know?
Tony has won three Iron Chef America competitions; pairing cocktails with Iron Chef Mario Batali; with Iron Chef Jose Garces and most recently with challenger Chef Sean McClain.
Tony's Featured Recipe
Tony Abou-Ganim is an author and leading bar professional. He has made dozens of national TV appearances on shows including: TODAY, Iron Chef America, Good Morning America, CNBC, Fox News and more.
Tony is the author of The Modern Mixologist: Contemporary Classic Cocktails and Vodka Distilled. He also has a DVD, Modern Mixology: Making Great Cocktails at Home, and hosted the Fine Living program Raising the Bar: America's Best Bar Chefs. His signature branded line of Modern Mixologist bar tools and his second book, Vodka Distilled.
Abou-Ganim grew up in the bar business, learning the craft from his cousin Helen David at the Brass Rail Bar in Port Huron, Michigan. After graduating from college, Abou-Ganim further developed an appreciation for a hand-crafted cocktail using only the freshest ingredients while working at Jack Slick's Balboa Café and then during the opening of Harry Denton's. In 1993 he moved to New York City and took a position as the opening bartender at Po, Mario Batali's first restaurant.
Tony later returned to San Francisco to open Harry Denton's Starlight Room atop the Sir Francis Drake Hotel and it was here that he developed his first specialty cocktail menu featuring several of his original cocktail recipes including the Sunsplash, Starlight and his most famous of them all, the Cable Car.
As one of the National Ambassadors of the U.S. Bartenders Guild, and Associate Member of the Museum of the American Cocktail, Abou-Ganim continues to educate about the history and lore of cocktails. He also operates his own beverage consulting firm specializing in bar staff training, product education and cocktail development.
Keep current with news, appearances and special events at www.modernmixologist.com on Facebook and on Twitter @MdrnMixologist.