Terry Golson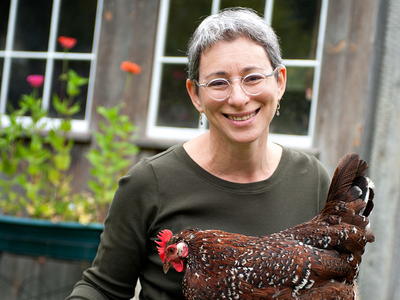 Did you know?
Terry keeps 13 hens, divided into two flocks in two coops near her kitchen garden. She says hens are "bossy, demanding, endlessly curious and easily gratified." Plus, they are "comical to watch" and "make great friends to your children." And they lay eggs!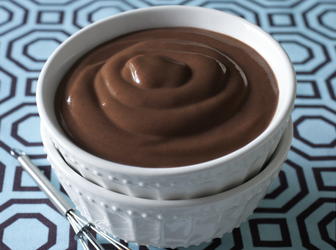 Terry's Featured Recipe
Chocolate Pudding
Terry Golson has always loved having animals around. Growing up, she had a guinea pig, a dog, two cats, and wished for a horse. She got a bachelor of science degree in animal science and for awhile rode horses for a living.
Terry's professional food career started at a health spa in Pennsylvania. She cooked there for almost three years during which time she worked her way up to sous chef and taught the cooking classes. From there, Terry moved to Boston, where she continued to teach cooking, and worked in a number of food establishments, including bakeries and a French cafe.
Terry's first cookbook, For Goodness Sake, was nominated for a James Beard award. She also wrote Wholehearted Cooking, 1,000 Lowfat Recipes, and Farmstead Egg Guide & Cookbook. She has written for numerous publications, including The Boston Herald, Cooking Light Magazine, and Eating Well magazine.
Her children's book, Tillie Lays an Egg, was inspired by her own chickens.
Terry lives in a small town west of Boston with her husband, two sons, two dogs, a rabbit, numerous (and rather unattractive) koi, and a small flock of hens.
Her website is www.terrygolson.com. You can visit her chickens online at www.hencam.com.