Susan Spungen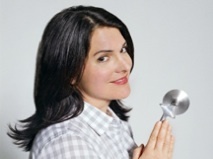 Did you know?
As part of her job on the movie Julie and Julia, Susan trained Meryl Streep and Amy Adams to cook onscreen. It was her role to make them appear as though they knew what they were doing!
Susan's Featured Recipe
Susan Spungen is a cook, food stylist, recipe developer, editor and author. She is the author of Recipes: A Collection for the Modern Cook,which won an IACP cookbook award. The book is a compilation of Susan's favorite recipes and is directed at novices and experts alike.
Susan began her cooking career when she was 17 years old and worked at the Commissary, a restaurant legend in its time in Philadelphia. The restaurant's globe-trotting dishes were a gastronomic revelation for the teen and she fell in love with food. 
More recently, Susan has gone Hollywood. She was the culinary consultant and food stylist for Julie and Julia, where she consulted with director Nora Ephron about what food should appear in the film and then made it all look delicious. (And yes, the boeuf Bourguignon in the movie was Susan's!) She also was the go-to food consultant and stylist on It's Complicated, starring Meryl Streep and directed by Nancy Meyers. She recently traveled to Rome to work on Eat, Pray, Love, starring Julia Roberts and directed by Ryan Murphy of Nip/Tuck fame. She also completed work as food stylist on Jason Reitman's new film, Labor Day, where she was charged with the responsibility of creating "The Greatest Pie-making Scene in Cinema History", and trained actors Josh Brolin and Kate Winslet how to make pie onscreen.
In 1991, Susan joined Martha Stewart Living  as founding food editor and was charged with creating a test kitchen and food department. In the early years of the then-fledgling magazine, she conceived, developed and tested recipes, styled the recipes for photo shoots, and explained the total concept to readers. The position was a perfect pairing of Spungen's love of food and clear artistic vision. Her artistic eye became the defining factor in the bright, clean look of the Martha Stewart brand.
Susan co-authored the award-winning bestseller Martha Stewart's Hors D'Oeuvres Handbook and helped launch the first Martha Stewart all-food title Everyday Food.  She appeared regularly on Martha Stewart Living TV and helped create a line of kitchenware for K-Mart. Her bi-monthly column, "Easy Entertaining," appeared in Martha Stewart Living through 2004.
She contributes both her food styling and recipe creation skills to a variety of magazines including Bon Appetit, Food & Wine, O the Oprah Magazine, and More Magazine where she is a Contributing Food Editor. She has also appeared on national morning shows such as Today, CBS this Morning, and Fox & Friends. She has also appeared on Foodography, on the Cooking Channel. 
Susan lives in New York. Her website is http://www.susanspungen.com/