Susan Spicer
Did you know?
The original manuscript for Susan's book, Crescent City Cooking: Unforgettable Recipes from Susan Spicer's New Orleans, had a dozen recipes for oysters. Although her editor asked her to remove a few, Susan hopes she can use them in another book.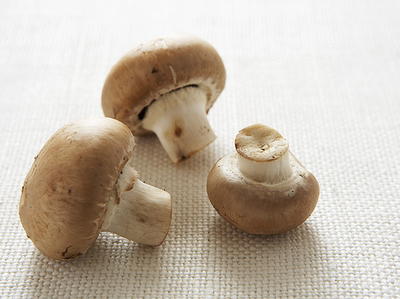 Susan's Featured Recipe
Goat Cheese Croutons with Wild Mushrooms in Madeira Cream
Susan Spicer is a restaurateur, chef, and cookbook author who has become synonymous with New Orleans cooking.
Susan began her cooking career in New Orleans as an apprentice to Chef Daniel Bonnet at the Louis XVI Restaurant. Later she moved to France and pursued a four-month stage with Chef Roland Durand of Meilleur Oeuvrier de France at the Hotel Sofitel in Paris. She returned to New Orleans to open the 60-seat bistro Savoir Faire in the St. Charles Hotel as chef de cuisine. In 1985, Susan traveled extensively in California and Europe for six months, returning to work in the kitchen at the New Orleans Meridien Hotel's Henri.
She has devoted her culinary talents to the city of New Orleans ever since.

In 1986 Susan opened the tiny Bistro at Maison de Ville in the Hotel Maison de Ville, and after nearly four years as chef, she formed a partnership with Regina Keever to open Bayona restaurant in a beautiful, 200-year-old cottage in New Orlean's French Quarter. Bayona soon earned national attention and was featured in numerous publications from Food & Wine, Gourmet, and Food Arts, to Travel & Leisure, Bon Appetit, The New York Times and more.
She recently opened Mondo, a casual, family-style restaurant in Lakeview, her New Orleans neighborhood.

Susan owned and operated Spice, Inc., a specialty food market with take-out food, cooking classes and artisan bakery from 1997 through 1999. This venture developed into Wild Flour Breads, which she currently co-owns with partner Sandy Whann. In September 2001, Susan, along with The Kimpton Group, opened Cobalt, a regional American restaurant located adjacent to the Hotel Monaco as consulting chef.

Susan has been the guest chef at The James Beard House, The Oriental Hotel in Bangkok, the Lanesborough in London, Cunard and Crystal Cruise Lines, as well as appearing on local and national television programs. She also participates in numerous charity events, such as co-chairing the New Orleans chapter of Share Our Strength's annual Taste of the Nation for 11 years. She has also represented New Orleans at the Superbowl hunger-relief fundraiser Taste of the NFL for 11 years.

She recently was inducted into the James Beard Foundation's Who's Who of Food and Beverage in America. In May 1993 she was the recipient of the James Beard Award for Best Chef, Southeast Region and, in 1995 was chosen for the Mondavi Culinary Excellence Award.
Bayona was featured as one of Restaurants and Institutions 1996 Ivy Award Winners, as well as being named to Nation's Restaurant News Fine Dining Hall of Fame in 1998. In addition, Bayona received "5 Beans," the highest rating from the New Orleans Times Picayune. Bayona has been included in the Top 5 Restaurants in New Orleans in Gourmet's Readers' Poll. Susan was the featured chef at a dinner in Paris for Les Amies des Vielles Maisons to be held in the Senate building.

Susan lives in New Orleans where she can be found in the kitchen at either Mondo or Bayona most nights of the week.