Susan Feniger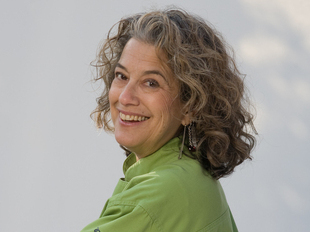 Did you know?
In 2001, various dishes from Susan and Mary Sue's restaurants, Border Grill and Ciudad, "starred" in Samuel Goldwyn's feature film, Tortilla Soup, a remake of Eat Drink Man Woman set in Los Angeles.
Susan's Featured Recipe
Susan Feniger is a chef, restaurateur, cookbook author, and radio and TV personality. Susan and her business partner Mary Sue Milliken have translated international street foods and comfort foods into critically acclaimed cuisine, and have become authorities on the Latin kitchen.
With the opening of Street in 2009, Susan launched the first solo venture of her 30-year career. Breaking out of the Latin kitchen, Sue Feniger's Street is dedicated to the authentic flavors of street food from around the world.
In 1981, Susan, with partner Mary Sue, opened City Cafe on Melrose Avenue in Los Angeles. With only 39 seats and just enough room in back for a prep table and a hot plate, and with a hibachi grill in the alley, the cafe quickly outgrew the space. When Susan and Mary Sue moved to a larger site, the new restaurant, called City Restaurant (1985-1994), featured eclectic dishes from Thailand, India, France, Italy, and Mexico.

In 1985, Susan and Mary Sue turned the City Cafe site into Border Grill, a "taco stand" serving authentic home cooking and street foods of Mexico. It too outgrew its space and in 1990 moved to its current home on 4th Street in Santa Monica, where it now serves modern Mexican food in an urban cantina setting. In 1998, the partners opened Ciudad in downtown Los Angeles, encompassing flavors from across the Latin world. In 1999, they opened a Border Grill at Mandalay Bay Resort & Casino in Las Vegas. Their newest joint venture is the Border Grill Truck, a gourmet taco truck that roams the streets of Los Angeles and also caters private parties.
Susan communicates her food passions through various media. Her television career began in 1993, when she and Mary Sue were invited to cook with Julia Child in her PBS series Cooking with Master Chefs. Susan is a veteran of 396 episodes of the popular Too Hot Tamales and Tamales World Tour series with Food Network (1995-1999), and has had several slots on Los Angeles radio stations. Susan currently is featured in Chefs vs. Cityon the Food Network and on Top Chef Masters on Bravo.
Susan has co-authored five cookbooks with Mary Sue: City Cuisine, Mesa Mexicana,Cantina, Cooking with Too Hot Tamales, andMexican Cooking for Dummies. Susan and Mary Sue also created a line of prepared foods under their Border Girls brand for Whole Foods Market, and a line of signature pepper and salt mills.
Susan played a founding role in Chefs Collaborative, is a member of Women Chefs and Restaurateurs, and has been on the board of the Scleroderma Research Foundation, spearheading a mission to find a cure for scleroderma, a life-threatening and degenerative illness.
In 1988, she helped start the foundation's flagship fundraising event, Cool Comedy-Hot Cuisine, featuring food and live performances by such comedians as Robin Williams, Ellen DeGeneres, Jay Leno, Rosie O'Donnell, Bob Saget, Garry Shandling, Lily Tomlin, and Sarah Silverman. Susan is a member of the gay and lesbian community, supporting efforts to fight for equality and empowerment through various organizations like the L.A. Gay & Lesbian Center, where she is a board member.
Susan lives in Los Angeles. 
Cookbooks, etc