Steven Raichlen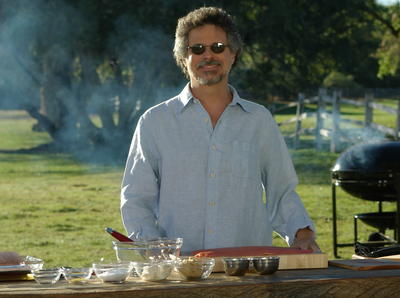 Did you know?
Steven, who defeated Iron Chef Roksbura Michiba on Japanese television, explains it's important to lubricate the grill with oil. Never spray oil directly onto a lit grill, he says, or you will get "Vesuvian flare-ups." The oil helps prevent sticking and gives you killer grill marks.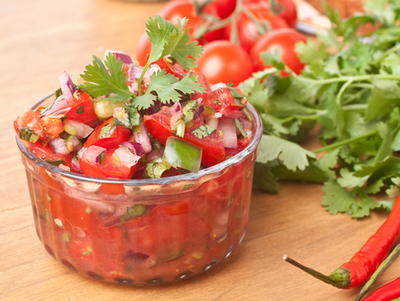 Steven's Featured Recipe
Basic Mexican Salsa
Steven Raichlen is an author, journalist, teacher, TV host, and, yes, novelist—but he is best known as the man who reinvented barbecue.
Steven wrote the multi-award-winning, best-selling Barbecue Bible cookbook series (five million copies in print in 16 languages). His Primal Grill and Barbecue University television shows on PBS and his French language show, Le Maitre du Grill, have helped people all over the world learn how to grill.
His obsession with live fire cooking began with The Barbecue Bible and continued with the IACP Award-winning How to Grill, which the New York Times said was "astute, approachable, and eminently appealing." BBQ USA won a 2004 James Beard Award, while the New York Times bestselling Planet Barbecue recounts a lifetime of traveling the world's barbecue trail. His latest cookbook, Best Ribs Ever, focuses on one of the world's most iconic live fire dishes.
Steven has appeared on most major television and radio shows, from The Today Show, Good Morning America, and CNN to Oprah, The View, Fresh Air, and Morning Edition. He founded Barbecue University, a grilling school at the Broadmoor resort in Colorado Springs. He also created the Best of Barbecue and Planet Barbecue lines of grilling accessories, manufactured by the Companion Group.
This spring, Forge books will publish Steven's first novel, Island Apart, a story of love, loss, redemption, and really good food set on Chappaquiddick Island.
Steven and his wife, Barbara, divide their time between Miami, Florida, and Martha's Vineyard. His website is www.stevenraichlen.com