Sheila Lukins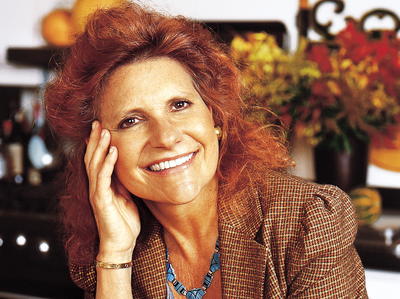 Did you know?
Sheila studied art at the Tyler School of Fine Arts, the School of Visual Arts and graduated with honors from New York University with a Bachelor of Science degree in Art Education. She also studied art in Paris.
Sheila's Featured Recipe
Sheila Lukins was a chef, food writer, and cooking teacher, whose bestselling books Celebrate!, The Silver Palate Cookbook, The Silver Palate Good Times Cookbook, The New Basics Cookbook, All Around the World Cookbook and U.S.A. Cookbook have about seven million copies in print. Her most recent book is Ten: All the Foods We Love, 10 Perfect Recipes for Each.
Sheila was food editor of Parade magazine and she also lectured, taught and demonstrated cooking throughout the United States. She appeared on national television numerous times and contributed to all the major food publications.
In May 1997, United Airlines presented an innovative new coach-class menu based on recipes created by Sheila. In January 2000, Sheila created the menus and recipes for the Rubell family's new Beach House Hotel, including the 200-seat Atlantic restaurant in Bal Harbour, Florida.
Throughout her career, Sheila received many awards for her contributions to the food world including: Business Woman of the Year for Gourmet Takeout from New York University's Small Business Administration; three awards from the National Association of Specialty Food Trade; and the New York Association of Cooking Teachers Life Achievement Award. In 1985, The Silver Palate Good Times Cookbook was named Best Entertaining Cookbook of the Year by the International Association of Culinary Professionals. Later, in 1992, Sheila was inducted into the James Beard Who's Who of Food and Beverage in America, and The Silver Palate Cookbook was named to the James Beard Foundation's Cookbook Hall of Fame.

In 1998, the U.S.A. Cookbook was also nominated for a James Beard Award. In 1998, the In-flight Food Service Association presented its Award of Distinction to United Airlines for its economy meal service developed with Sheila.

Sheila studied at The Cordon Bleu School in London and continued her education in both cuisine and art in Paris, where she lived for one year. She also spent time in Bordeaux working with various chefs. After moving back to New York, Sheila founded The Other Woman Catering Company, and in 1977 she co-founded The Silver Palate (interest in the company was sold in the summer of 1988).

Sheila was a member of The American Institute of Wine and Food, The James Beard Foundation and the International Association of Cooking Professionals. She lived in New York City until her death in 2009.