Sharon Herbst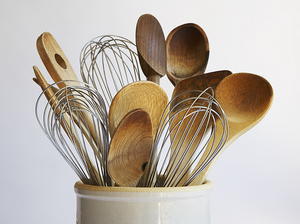 Did you know?
Sharon included pronunciations in The Food Lover's Companion because she'd never been able to forget her own mortification after mispronouncing a word.
Sharon's Featured Recipe
Sharon Tyler Herbst has been called the foremost writer of user-friendly food and drink reference works and was an award-winning author of 16 books. The Food Lover's Companion became a kitchen staple with its thousands of definitions of edibles from around the world.
When the book first came out in 1990, the New York Times pronounced it "as thick and satisfying as a well-stuffed sandwich." Two more editions were published, with the third edition boasting some 6,000 definitions, including listings for amasake, a Japanese fermented drink, verjuice, a liquid made from unripe fruit, and za'atar, a Middle Eastern herb or spice blend.
Sharon was a relatively unknown food and travel journalist when a publisher asked if she knew a culinary scholar who could write a reference guide of food terms. Sharon persuaded editors she could do the job herself, and then spent three years on it.
In a 2003 interview with the Associate Press, she recalled that it took her a day and a half to write the entry for bananas!
In addition to definitions and pronunciations, Sharon included many cross-references in The Food Lover's Companion to make it easier for readers to find what they were looking for. "Cross-referencing is so important. It takes a long time to map out the terms," she explained.
Another of Sharon's books, Never Eat More Than You Can Lift, a title that comes from Miss Piggy, is a humorous volume containing over 1,500 food quotes from everyone from Oprah Winfrey to Robin Williams. Anyone who knew Sharon, appreciated her sense of humor, and so this book was no surprise!
Sharon also wrote The Ultimate A-to-Z Bar Guide, The Food Lover's Tiptionary, and The Joy of Cookies.
Sharon was a consultant and spokesperson for major food and beverage corporations and was a media personality with myriad appearances on local and national radio and television shows, including Good Morning America and Today. She was a president and an eight-year board member of the International Association of Culinary Professionals.
Sharon died in 2007.