Sharon Crayton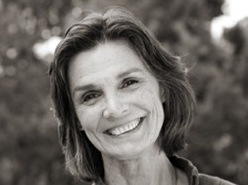 Did you know?
While running her restaurant, Café Sparrow, Sharon raised two children. She also met Dzongsar Jamyang Khyentse Rinpoche, who became her Buddhist meditation teacher and inspired her to slow down her life and begin investigating the intersections of Buddhism, cooking, and compassion.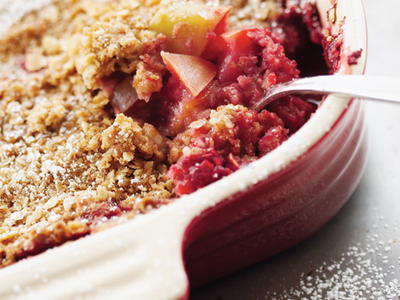 Sharon's Featured Recipe
Fresh Fruit Crisp
Sharon Louise Crayton has been involved with cooking and food for more than 30 years.
After studying nutrition and French cooking at San Jose State University in California, and then in and around San Francisco, she began creating recipes for companies such as S&W Foods, Foster Farm Chickens, Del Monte, and Spice Islands.
When she struck out on her own, she opened the Café Sparrow, a California-French fusion restaurant, in Aptos, California, where she was proprietor, chef, and maître d'.
Sharon sold Café Sparrow in 1989 and completely immersed herself in the study of Western and Chinese herbal medicine, food theory, and acupuncture. Eventually, she began traveling the world. Her journeys took her for long periods to Dordogne, France, and to Portugal, where she honed both her culinary skills and her Buddhist knowledge, cooking fresh, simple, lovingly prepared meals for some of the great Buddhist masters of our time.
Sharon currently lives in Santa Fe, New Mexico.
Her website is www.sharonlouisecrayton.com.
Cookbooks, etc