Sara Foster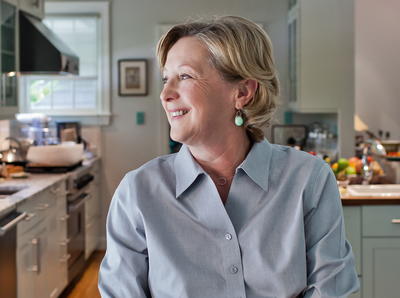 Did you know?
Sara always has buttermilk, salsa, salad greens, cheese and tortillas in her refrigerator. For her, a perfect snack is any cheese from the farmer's market served with seven-pepper jelly. Her perfect meal? A baked sweet potato!
Sara's Featured Recipe
Chicken Piccata
Sara Foster is a respected expert on simple, honest food prepared with fresh, local and seasonal ingredients. Her relaxed approach to food and cooking resonates with readers and cooks across the country for its emphasis on authenticity and ease. She is a firm believer that any home cook can prepare fresh, flavorful home-cooked meals with comfort and convenience. Her fifth cookbook, Foster's Market Favorites, shares the dishes that have kept diners coming back to the beloved Durham, North Carolina eatery that Sara Foster opened in 1990.
Growing up in rural Tennessee, Sara developed a deep connection to food, family and community from the home-cooked meals by her mother, father, aunts, and grandparents. Her approach to cooking emphasizes the soulfulness and simplicity of home. To expand her skills and talents, Sara moved to New York to work as a part-time chef at SoHo Charcuterie, a New American cuisine restaurant specializing in inventive, fine, fresh food. During this time, she also worked as a caterer for Ronnie Davis of Washington Street.
After graduating from New York Restaurant School in 1981, Sara worked alongside Martha Stewart as a chef for her catering company. Her contributions to Stewart's catering business won wide praise. She worked many long hours preparing for some of the most elaborate parties in the Northeast. Sara even assisted Stewart on several of her best-selling cookbooks.
In 1984, Sara married filmmaker and cinematographer Peter Sellers, and by 1985 she decided to focus on her own philosophy of food. She started a catering business in Greenwich, Connecticut, venturing back to her roots of simple, easy elegant food. Her recipes connected with the community, and Sara soon had a large following of loyal customers.
After several years of success with her catering business, Sara pursued a lifelong dream of opening a gourmet food market café. She and her husband moved to Durham, North Carolina, and opened Foster's Market in 1990, introducing seasonal prepared foods to eat in or take out, specialty grocery items, locally roasted coffee and select wines. The market café was such a success that Sara opened a second Foster's Market location in 1998 in Chapel Hill.
Following the popularity of the market cafés, Sara wrote her first cookbook, The Foster's Market Cookbook: Favorite Recipes for Morning, Noon, and Night. Her second cookbook, Fresh Every Day: More Great Recipes from Foster's Market was released in May 2005 and reached the Top 10 on Amazon and was on the Los Angeles Times best seller lists. It was frequently named one of the Top 10 cookbooks of 2005. Sara's third cookbook, Casual Cooking: Simple Fresh Recipes for the Way We Eat Today was released in March 2007. Her fourth cookbook, Sara Foster's Southern Kitchen, appeared in April 2011.
Sara has been featured in the New York Times, Woman's Day, Bon Appetit, Reader's Digest, Southern Living, Martha Stewart Living Magazine, House Beautiful, Real Simple, Country Home, Redbook and many others. She also has appeared on NBC's Today Show, Martha, From Martha's Kitchen, Turner South's Home Plate, NPR, PBS and QVC.
Sara lives in North Carolina. Her website is www.fostersmarket.com, and all of her cookbooks are available there.
Latest Recipes





(2 Votes)