Sandra Woodruff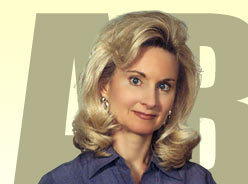 Did you know?
Sandra says that "Eating smart is not about dieting and deprivation. It's about focusing on the many super-nutritious, delicious foods that you can have. It's also about learning new ways to tweak recipes and meals."
Sandra's Featured Recipe
Cauliflower-Cheese Soup
Sandra Woodruff is a registered and licensed dietitian/nutritionist and the author of numerous books on nutrition, cooking, and healthy eating including The Best-Kept Secrets of Healthy Cooking, The Good Carb Cookbook, and The Complete Diabetes Prevention Plan. She is also an American College of Sports Medicine certified personal trainer and served as a legislative advocate on health and wellness issues.
Sandra received her master's degree in Food and Nutrition from Florida State University. During her career, she has worked as a dietitian in a hospital-based wellness center; consulted to medical groups, businesses, and industry; taught college nutrition courses; and served as president of the Florida Dietetic Association. For many years she maintained a private practice specializing in helping people improve their diets for the prevention and management of obesity, cardiovascular disease, diabetes, and other diet-related health problems.
Sandra has spoken at numerous workshops and seminars and has appeared on television and radio shows throughout the United States and Canada including Oprah Winfrey, The Lifetime Network, and QVC. Her work has appeared in a variety of publications including Prevention, Cooking Light, Shape, Better Nutrition, Bottom Line Health, All You, and Family Circle magazines, as well as the web-based Family Education Network.
Cookbooks, etc