Rose Murray
Did you know?
Since childhood, Rose has been interested in agriculture and food. She grew up on a self-sustaining mixed farm near Collingwood, Ontario, where she learned the art of growing your own food, cooking and preserving it at a very young age.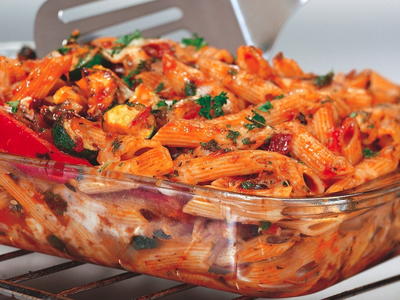 Rose's Featured Recipe
Three-Cheese Baked Penne with Roasted Vegetables
Rose Murray is a cookbook author, cooking teacher, media personality, and newspaper and magazine writer based in Canada. She is known for her understanding and interest in agriculture and its connection with the cooked dish.
Rose is the author of 10 cookbooks: Canadian Christmas Cooking; Rose Murray's Vegetable Cookbook; Secrets of the Sea; Rose Murray's Comfortable Kitchen Cookbook; Cellar & Silver; The 125 Best Casseroles; Quick Chicken; A Year in My Kitchen; Hungry for Comfort; and A Taste of Canada: A Culinary Journey.
She has been a contributor to more than 40 other cookbooks, including the Canadian Living books. She wrote the introduction to the 2007 commemorative edition of Edna Staebler's classic Food that Really Schmecks, used in the Life Studies Department of Wilfrid Laurier University.
Rose studied at the Cordon Bleu in Paris, La Varenne and Ecole de Gastronomie Francaise Ritz-Escoffier. She also has taken cooking classes in Costa Rica, Hong Kong and Thailand. She is a student of Canada's foodways and has traveled the country, where she has fished for salmon off Vancouver Island, enjoyed fall suppers in northern Saskatchewan, gathered wild rice in northern Ontario, picked berries on the Gaspe and on Cape Breton Island, and dug for clams in Prince Edward Island.
Since 1979, Rose has written for a number of magazines and newspapers. Her work has appeared in such publications as Canadian Living, Elm Street, Homemakers, City and Country Home, Family Magazine, Confidante, President's Choice Magazine, Harrowsmith, Epicure, Ontario Living, Select Homes & Food, Verve, You, Australian Woman's Day, London Magazine,and The Globe and Mail. She wrote regular columns for a time for The Toronto Star and The Cambridge Reporter.
Rose first demonstrated cooking on television 35 years ago and since has appeared often on a variety of radio and television shows such as CBC's Ontario Today and Fresh Air, TVO More to Life, London New PL's New Day and for many years, has been resident cook on Kitchener's CTV Noon News, where she primarily promotes local food and growers.
She owned a cooking school in Kitchener for a number of years and taught cuisine in various other venues including Conestoga College, Waterloo, and a food and culture course at Wilfrid Laurier University. Over the years, she has also demonstrated cooking techniques at food shows like The Royal Winter Fair, the Ottawa Food and Wine Show, Saskatchewan Food and Wine Festival, The Good Food Festival in Toronto. She has been a guest teacher and speaker at many other events throughout Canada.
Besides winning top honors for Hungry for Comfort in 2004 from the National Culinary Awards, Rose was the 1993-94 recipient of the Toronto Culinary Guild's Silver Ladle Award for her contribution to Ontario's food industry, and the 1994 Bernice Adams Memorial Award (Cambridge, Ontario) for Communications/Literary Arts. She also was awarded honorable mention in 2009 for A Taste of Canada for the National Culinary Awards and received a "gold award" for writing in the category of Media/Publishing from the Ontario-Hostelry Institute.
Rose and her husband Kent live in Cambridge, Ontario. She is the mother of two grown children and has two grandchildren. Her website is www.rosemurray.ca She writes a blog on her site.