Romeo Dorotan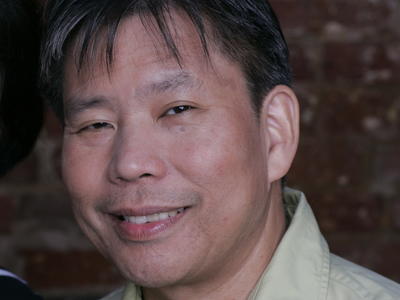 Did you know?
Romy and Amy's cookbook took three-and-a-half years to write and, as they say, "blossomed into a book about one Filipino generation's comfort foods."
Romeo's Featured Recipe
Romy Dorotan is the chef-owner of Purple Yam in Ditmas Park, Brooklyn, New York, with his wife and partner Amy Besa. Previously he was the chef at Cendrillon, a Filipino restaurant in downtown New York that closed in 2009. It was known for serving traditional Filipino dishes as well as those that have been influenced by the cultures of other countries such as Spain, Mexico, and the United States.
Romy and Amy, also from the Philippines, wrote Memories of Philippine Kitchens, which is a recipe book illustrated with rich, evocative photos of life in the Philippines and its food. In 2007, the book won the IACP Jane Grigson Award for Distinguished Scholarship in the Quality of Research Presentation.
Ironically, Romy cooked for Jane Grigson in 1982 when he was lunch chef at Hubert's in Manhattan. The author wrote enthusiastically about the meal cooked for her by a Filipino chef who experimented with exotic Asian ingredients in New York City.
Romy lives in New York. His website is