Robin Asbell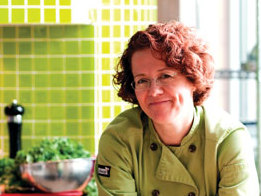 Did you know?
Robin has dedicated much of her career to developing easy-to-use recipes and has taught vegetarian cooking for more than 10 years.
Robin's Featured Recipe
Robin is a private chef, cookbook author, culinary instructor, freelance writer, recipe developer and speaker.
She is the author of three cookbooks: Big Vegan, The New Vegetarian Cookbook, and The New Whole Grains Cookbook.
Her recipes have appeared in such publications as Better Homes & Gardens, Fine Cooking, Real Food, Mother Earth News and Vegetarian Times.
Since 1995, she has taught cooking classes in the Minneapolis/Saint Paul metropolitan area. She also works as a private chef to design healthful meals and menus for her clients.
Robin is a culinary advisor to the Whole Grains Council.
She lives in the Twin Cities. Her website is robinasbell.com/.
Cookbooks, etc