Roberto Santibanez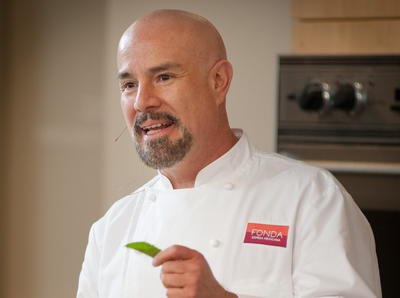 Did you know?
Roberto considers himself a culinary ambassador for Mexico. He spends any extra time he has researching its traditional foods, developing recipes, writing, teaching and conducting cooking demonstrations to enlighten everyone with an interest in his homeland.
Roberto's Featured Recipe
Roberto Santibañez is the chef/owner of Fonda restaurants and La Botaneria in Brooklyn and Manhattan, NY. As a native of Mexico City and a graduate with honors from Paris's top culinary institutions, award-winning Chef Roberto Santibañez's culinary resume includes stints as restaurateur, culinary consultant, author, and teacher in Mexico, Europe and the United States.
He is the author of Rosa's New Mexican Table, nominated for an IACP and a James Beard Awards. His second book Truly Mexican was one of the most Notable Cookbooks of 2011 by The New York Times, Epicurious, and Food & Wine. His third cookbook Tortas, Tacos and Tamales is considered one of the best cookbooks of 2012 by Food & Wine magazine. Roberto is a culinary consultant for Amtrak, and a member of The Culinary Institute of America's Latin Cuisines Advisory Council.
Roberto's website is robertosantibanez.com