Rick Tramonto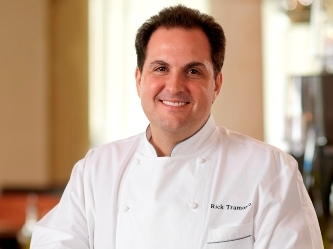 Did you know?
Rick's first cooking job was at Wendy's in Rochester, New York. To this day, Rick attributes Dave Thomas, the founder of Wendy's, with encouraging him to pursue a career in cooking.
Rick's Featured Recipe
Rick Tramonto has restaurants in Chicago and its suburbs: Tru, Tramonto's Steak & Seafood, and Osteria di Tramonto, as well as RT Lounge. With executive pastry chef Gale Gand, he, as executive chef, runs the world-renowned, four-star, fine-dining benchmark restaurant, Tru, in partnership with Rich Melman, chairman of Lettuce Entertain You Enterprises.
Rick is the author of eight books, three written with Gale Gand. His most recent is Steak with Friends: At Home with Rick Tramonto. Previously, he published Fantastico! and Osteria, both of which celebrate the Italian-American food of his heritage. Other books include Tru and Amuse-Bouche.
Rick's restaurants and books have been nominated for and won a number of awards and accolades. Tru was named most popular Chicago restaurant by the Zagat Guide, and Chicago Magazine has twice named Tru Best Restaurant. He has been named Best Chef: Midwest Region and Tru was nominated for Best New Restaurant. It also was nominated for Outstanding Service and earned Grand Award status from Wine Spectator magazine. Rick is the recipient the Ivy award from Restaurants & Institutions and induced in Nation's Restaurant News' Fine Dining Hall of Fame. Food & Wine recognized Rick as one of the Top Ten Best New Chefs in 1994.
Rick was a contestent on Top Chef Masters in its second season. He has appeared on a number of other national television programs, including Oprah, Today, CBS Morning News and has been a judge on Top Chef.
Rick lives north of Chicago with his wife Eileen and their three children.
Website: http://cheftramonto.com/ & Twitter @cheftramonto