Rebecca Lang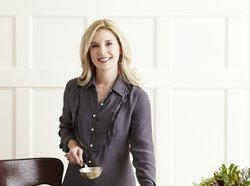 Did you know?
Rebecca has been a food stylist and hand model for various print and television commercials. She has worked with Black & Decker, Krystal, LongHorn Steakhouse, Mrs. Smith's, Shoney's, and Good Eats.
Rebecca's Featured Recipe
Rebecca Lang is a cookbook author, cooking instructor, and food writer. Her newest book, Fried Chicken: Recipes for the Crispy, Crunchy, Comfort-Food Classic was released in May 2015. She is also the author of Around the Southern Table, Quick-Fix Southern, Mary Mac's Tea Room, and Southern Entertaining for a New Generation.
She serves as a contributing editor for Southern Living, teaches cooking classes across America, and writes a blog that has been featured on the James Beard Foundation Blog, Delights and Prejudices, and noted in Food News Journal's Best of the Blogs. Her writing has appeared in many publications including Southern Living, Disney's Family Fun, Taste of the South, The Atlanta Journal-Constitution, Flavors magazine, and Edible Atlanta.
Rebecca has worked on the editorial aspect of over 30 books as former assistant food editor at Oxmoor House. She was an apprentice for Nathalie Dupree and is a graduate of The University of Georgia. She earned a culinary arts degree from Johnson and Wales University.
She is a member of the Atlanta Chapter of Les Dames d'Escoffier, The International Association of Culinary Professionals, The Southern Foodways Alliance, the James Beard Foundation and Georgia Organics.
She resides in Athens, Georgia, with her husband, Kevin and their children, Camden and Adair.
Cookbooks, etc