Raquel Rabade Roque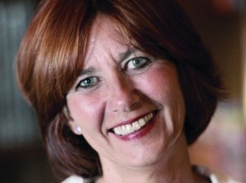 Did you know?
Raquel's Cuban cookbook reveals some secrets of a Cuban cook, inlcuding how to clean pigs' feet and an easy way to peel beets.
Raquel's Featured Recipe
Raquel Rabade Roque is the owner of an independent bookstore called the Downtown Book Center in Miami, and author of The Cuban Kitchen.
Raquel's father opened the store in 1965, and she began working there in her twenties. She says she began collecting recipes for the cookbook when she was 19 years old and a a student majoring in hospitality management at Florida International University.
Raised in a south Florida Cuban household, Raquel makes no claims to being a seasoned chef but instead calls herself an accidental cook.
Over the years, Raquel has expanded the book store's offerings to keep up with the times. She also moved it two blocks from its original location.
Raquel lives in Miami, Florida.
Cookbooks, etc