Rachel Allen
Did you know?
The BBC has described Rachel as an "Irish cooking queen" and Good Food magazine said she "has put Irish cooking on the map in recent years."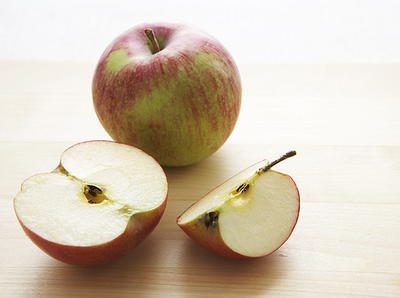 Rachel's Featured Recipe
Pork Chops With Caramelized Apples
Rachel Allen is a cookbook author, televison personality, and cooking teacher based in Ireland. She is the author of four cookbooks: Rachel's Favourite Food at Home; Rachel's Food for Living; Bake; and Rachel's Diary 2009.
She has television series for RTE in Ireland and the BBC, which have been broadcast internationally. She is a frequent guest on the BBC's Saturday Kitchen.
Rachel is a columnist for The Sunday Tribune magazine in Ireland and contributes to many Irish publications.
She left home at 18 to study at Ireland's renown Ballymaloe Cookery School, where she still teaches to this day. She is a practical cook who directs her attention primarily to the home cook. For instance, on her website she has a list of what every cook should have in his or her pantry. For example, she says oats should be available "for your porridge, for quick flapjacks" and pulses (legumes) such as "haricot beans, kidney beans, chickpeas, black eyes, butter beans. A great source of protein, a fabulous alternative to meat and so many ways to use them."
Rachel lives in her seaside home in Ireland's County Cork with her husband Isaac, sons Luka and Joshua, and their dog Buddy.
Latest Recipes





(1 Votes)
Cookbooks, etc