Paula Wolfert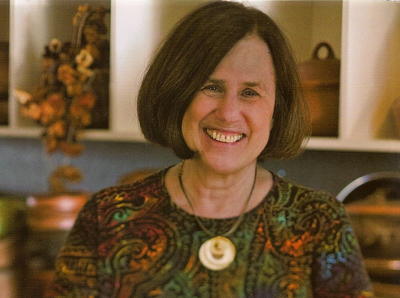 Did you know?
Paula, a champion of clay-pot cooking, says, "The clay just gives [the food] some­thing that you don't get from metal. You sense a closer con­nection to the earth. And isn't that what we're looking for in what we eat?"
Paula's Featured Recipe
Paula Wolfert is a cookbook author who is perhaps best known for introducing her readers to the cuisines of Morocco, the Mediterranean, and southwest France.
She is the author of Couscous and Other Good Food From Morocco; The Cooking of Southwest France: Recipes from France's Magnificent Rustic Cuisine; Mediterranean Clay Pot Cooking: Traditional and Modern Recipes to Savor and Share; The Slow Mediterranean Kitchen: Recipes for the Passionate Cook; Mediterranean Grains and Greens: A Book of Savory, Sun-Drenched Recipes; Good Food from Morocco; Cooking of the Eastern Mediterranean; Mediterranean Cooking; and Paula Wolfert's World of Food. She has won the Julia Child Award, The James Beard Award, The M. F. K. Fisher Award, The Tastemaker Award and been a finalist for the Andre Simon Award.
Paula first became interested in the cooking of other countries when she lived in Morocco in the 1960s. Ten years later wrote her first book, Couscous and Other Good Food From Morocco, which was published in 1973, followed soon afterwards with Mediterranean Cooking in 1976. Her endeavors prompted New York Times food writer, the late Craig Claiborne, to say of her: "I think she's one of the finest and most influential cookbook authors in this country. Her recipes are done with incredible accuracy. She brings a sense of wonder to matters of taste. She has an uncommonly fine palate. In sum, she is one of the leading lights in contemporary gastronomy."
Paula is known as a scholarly and bold writer who is dedicated to the idea of using authentic ingredients, rather than altering recipes with substitutes. Alternatives, although perhaps easier to find, change a dish in subtle or more dramatic ways so that it does not taste as it does in its country of origin. She urges her readers to enjoy the pursuit of unusual or unfamiliar ingredients.
Early on, Paula enrolled in cooking classes with renown chef Dione Lucas at her Cordon Bleu Cooking School in Manhattan. That was it for her. She embraced cooking and never looked back. Since then, cooking and writing about food have been her life.
Paula spent much of the 1980s researching the cooking of southwest France and other regions of the Mediterranean. She revised Mediterranean Cooking in 1994 so that the recipes were more in line with a more healthful way of eating and thinking about food. As she put it in an interview, "I turned my plate around: I magnified and minimized." This meant an increase in the number of greens and grains on the plate and a decrease in the amount of meat, cream, cheese and butter.
Paula lives in Northern California with her husband, William Bayer, an Edgar Award-winning crime novelist. Her website is www.paula-wolfert.com