Patricia Wells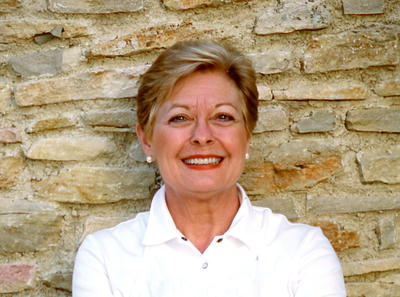 Did you know?
Patricia's most recent works include the updated 5th edition of The Food Lover's Guide to Paris (April 2104), the accompanying The Food Lover's Guide to Paris application for the iPhone and the iPad (April 2013), and The French Kitchen Cookbook (October 2013.)
Patricia's Featured Recipe
Patricia and Walter Wells have lived in Paris since January 1980. Together, they run a popular cooking school – At Home with Patricia Wells – in Paris and Provence.  
Patricia is the author of 14 books, beginning in 1984 with the publication of the landmark The Food Lover's Guide to Paris. That was followed by The Food Lover's Guide to France, Bistro Cooking (named the IACP Best European Cookbook) and Trattoria. Her cookbook,  Simply French, introduced chef Joël Robuchon to the world and captured the James Beard award for Best European Cookbook. Three other cookbooks, Patricia Wells At Home in Provence, The Paris Cookbook, and The Provence Cookbook  were named James Beard Best European Cookbook. She is also the author of L'Atelier of Joël Robuchon. Her cookbook, Vegetable Harvest, was nominated as a James Beard Best European Cookbook. Her books have been translated into French, Spanish, German, Swedish, Portuguese, Japanese, Swedish, and Dutch.  
In 2011 she published both Salad As a Meal, a collection of quick, healthful salads that make a meal; and Simply Truffles, a working manual on how to conquer the mysteries of one of the world's rarest foods. Her most recent book, The French Kitchen Cookbook was released in October 2013. The 5th edition of The Food Lover's Guide to Paris was released in April 2014.
Together with her husband she wrote We'll Always Have Paris …and Provence, a memoir of their life in France, with recipes. Walter is the former executive editor of the International Herald Tribune and one of the few non-French citizens to be awarded the French Legion of Honor.
Patricia has been honored as a Chevalier de l'Ordre des Arts et de Lettres by the French government for her contributions to French culture. She was awarded a honorary degree in gastronomic journalism by her alma mater, the University of Wisconsin-Milwaukee; was awarded the French Food Spirit Award from the French government; and the Versailles World Cookbook Award for best promotion of French cuisine. Since 1992 she has been a member of James Beard Who's Who in the World of Food and Beverages in America.
She was global food critic for the International Herald Tribune for more than 25 years. From 1988 to 1991, she was restaurant critic of the French newsweekly, L'Express, the only female and only foreign critic in France. Before moving to France she worked as an art critic for The Washington Post and a food writer for The New York Times.
Patricia lives in France. Her website is patriciawells.com.