Nicole Young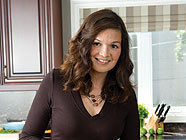 Did you know?
Nicole moved to Toronto more than ten years ago, after completing her culinary training at Le Cordon Bleu and working in restaurant kitchens from Ottawa to Hong Kong.
Nicole's Featured Recipe
Nicole Young is the owner of Nicole Young Culinary Consulting. She contributes to various publications and consults with food and hospitality companies, as well as marketing boards for commodities. She lectures, gives cooking demonstrations, and has written three books.
Nicole is the author of The Blender Bible, Blender Cocktails, and Blender Baby Food.
Nicole contributes to Food and Drink, Clean Eating, Oxygen, Today's Parent, Homemakers, Canadian Living, and Best Health magazines.
Her consulting clients include KFC, New York Fries, Pizza Hut, Kraft Foods Inc., Dempsters, Maple Leaf, Smuckers, Robin Hood, Campbell's Foods, Stonemill Bakeries,Europe's Best, Kellogg's, Quiznos, and Saputo. She also consults with Homegrown Ontario, Ontario Independent Meat Producers and the Ontario Cattlemen's Association.
She has appeared on HGTV's Kitchen Equipped, Slice Network's The Mom Show, Breakfast Television, CH Morning Live, Canada AM and various local television stations inCanada.
Nicole lives in Toronto with her husband Dave and their two children, Liam and Claire. Her website is www.nicoleyoung.org/
Cookbooks, etc