Michel Nischan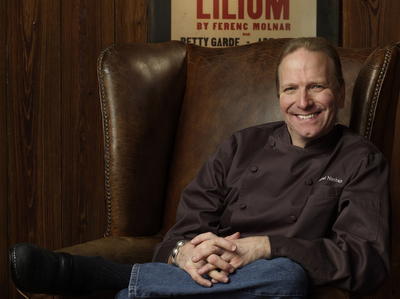 Did you know?
When he was growing up in Des Plaines, Illinios, Michel's mother turned their entire backyard into a vegetable garden. "Right up to the sliding glass doors," the chef recalls. Following his mom's lead, Michel tends a large, backyard organic garden.
Michel's Featured Recipe
Sashimi of Fluke with Sweet Shrimp
Michel Nischan is a chef, cookbook author and avid proponent of healthful, sustainable and culturally significant food and social causes. He teamed up with the late Paul Newman, the like-minded actor and philanthropist, to open the Dressing Room, A Homegrown Restaurant, located on the grounds of the Westport Country Playhouse in Westport, Connecticut.
The restaurant is designed to reflect the feel of living in the Connecticut countryside and features a fieldstone fireplace, exposed reclaimed barn board walls, and heavy-timber wood columns and beams -- all of which create a warm, updated country setting.
Michel is the author of three books: the best-selling Taste: Pure and Simple, and Homegrown: Pure and Simple. His most recent book is Sustainably Delicious, which showcases recipes that celebrate local and sustainably produced foods.
He has appeared on Oprah! and other television shows, and is a frequent contributor to O Magazine and other publications. Michel lives in Fairfield, Connecticut, with his wife Lori and their five children. For more, go to michelnischan.com.
Cookbooks, etc