Michael Schlow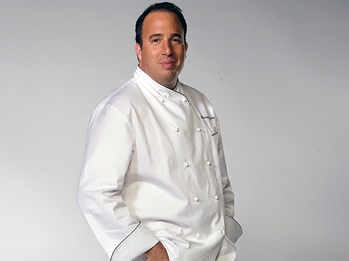 Did you know?
Michael gave up a baseball scholarship — he had a 92-mph fastball — for a spot at the Academy of Culinary Arts in New Jersey. He was especially thrilled that a set of Wusthof knives were part of the deal!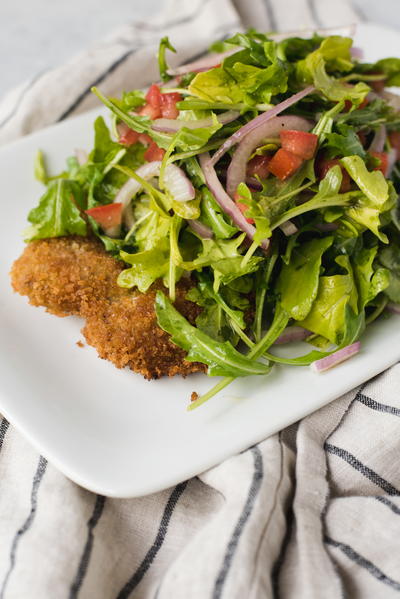 Michael's Featured Recipe
Veal Milanese with Arugula, Tomato, and Red Onion Salad
Michael Schlow is executive chef and co-owner of Boston restaurants Radius, Via Matta, and Alta Strada. With long-time business partner and friend Christopher Meyers, Michael opened Radius in January 1999 and then Via Matta in 2002. A little later, he opened Alta Strada in Wellesley, Massachusetts. His more recent restaurants are 606 Congress in Boston and Alta Strada at the MGM Grand at Foxwoods Casino in Connecticut.
He is the author of It's About Time: Great Recipes for Everyday Life, with a foreword written by Mario Batali. Michael is known for championing low-temperature cooking, which results in succulent, tender dishes, as well as other styles.
When Michael grew up in Brooklyn, he says his love of food was challenged only by his infatuation with baseball. Today, the chef may live outside Boston, but remains a die-hard Yankee fan.
He trained in a handful of restaurants in the New York area and devoted a great deal of energy to developing his skills in classic Italian cooking. His career began with New York restaurateur Pino Luongo, and he immediately adopted a commitment to the elegance and simplicity of true Tuscan cooking. He went on to become the chef de cuisine at Manhattan hotspots, Coco Pazzo and Le Madri, and eventually became executive chef at famed Long Island restaurant, Sapore di Mare. Michael continued to develop a commitment to proper technique at 75 Main, a restaurant and gourmet market in the Hamptons, where he folded Asian and French influences into his cooking. He also cooked at Craig Shelton's New Jersey Ryland Inn.
He moved to Boston in 1995 to reopen that city's Café Louis and during his three years there, he garnered nearly every culinary distinction in town, including Boston Magazine's "Best New Chef in Boston," and Food & Wine's "Best New Chef in America."
When Michael opened Radius, Boston Magazine named it the "Best Restaurant" and site of the "Best Power Lunch" in town. Other accolades for Radius include being recognized as one of the top "25 Best American Restaurants in 2001" by Gourmet Magazine, "Best New Restaurant of 2000" by Food & Wine magazine and "Best New Restaurants in America" by Esquire Magazine. Gourmet has named Via Matta as one of "America's Best New Restaurants."
Michael won the James Beard Award of Excellence for Best Chef in the Northeast. Food & Wine magazine named Michael s one of the "Best New Chefs in America" and he also earned the "Robert Mondavi Culinary Award of Excellence,"
Michael is very proud that he was asked not once but twice to cook birthday dinners for Julia Child, and also that he has cooked at the James Beard House.
He has made numerous television appearances on network and cable food programs, including CBS's The Early Show, The Today Show, and Good Morning America. Most recently, he competed on the Top Chef Masters series on Bravo. He has participated in culinary events including Gourmet magazine's Bermuda Culinary Arts Festival and the World Gourmet Summit in Singapore. He participates in numerous benefits and charities and annually returns to New Jersey for A Dinner of Hope, benefiting children with AIDS.
In May 2006, Michael launched Good Essen ("Good Eating"), which now handles all of his culinary activities and ventures. It's through Good Essen that he also consults for companies like Marriott, Renaissance, The Greatest Bar, and more.
Michael lives in Westwood, Massachusetts. His website is http://www.michaelschlow.com/
Latest Recipes