Michael Chiarello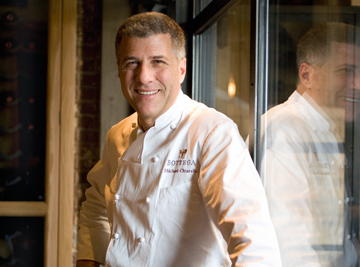 Did you know?
Michael started a national craze in the mid 1990s when he replaced butter with flavored olive oil his restaurant's tables. Customers lined up at the kitchen door to buy bottles of olive oil to take home.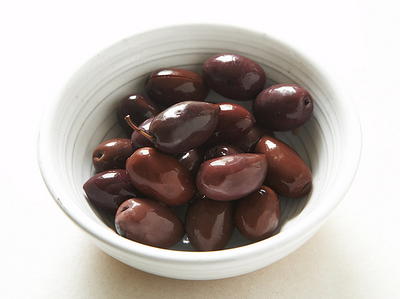 Michael's Featured Recipe
Baked Swordfish with Salsa Puttanesca and Basil Oil
Michael Chiarello is the is the chef-owner of Bottega Restaurant in California's Napa Valley. He also is the Emmy-winning host of Easy Entertaining with Michael Chiarello, aired on the Food Network.
A native Californian, Michael was the founding chef of Tra Vigne Restaurant in 1986, a Napa Valley eatery where he began creating his signature dishes inspired by his Italian family's traditions and seasonal local ingredients.
He had left California several years earlier to study at the Culinary Institute of America, and after graduation, moved to Florida, where he attended the Florida International University School of Hospitality Management. He then opened Toby's Restaurant in Miami and a year later in 1985 was named Chef of the Year by Food & Wine magazine. He returned to his home state to work at Tra Vigne and has centered his cooking and related businesses in the Napa Valley ever since.
In 1995, Michael wrote his first book, Flavored Oils: 50 Recipes for Cooking with Infused Oils, followed the next year with Flavored Vinegars: 50 Recipes for Cooking with Infused Vinegars. He published The Tra Vigne Cookbook in 1999 and launched a PBS cooking show called Season by Season the same year. He also released wines from the Chiarello Family Vineyards that year and received a rating of 93 from Wine Spectator.
In 2000, Michael left Tra Vigne to found NapaStyle, a media-driven lifestyle retailer, which develops books, television shows, Internet presence, and showcases handcrafted home goods and artisanal foods. He opened the first NapaStyle retail outlet in 2006 in Berkeley, California. He opened stores in other California locations such as Los Gatos, Pasadena, Corte Madera, and Costa Mesa. Finally, in 2008, he opened his Napa Valley flagship store in Yountville, directly across the street from Bottega.
Over the years, Michael has opened several restaurants, including Ajax Tavern and Bump's, both in Aspen, Colorado; Bistecca Italian steakhouse in Scottsdale, Arizona, and Caffe Museo in the San Francisco Museum of Modern Art and Tomatina in St. Helena, California.
He is the author of Michael Chiarello's Casual Cooking, which won a book award from the International Association of Culinary Professionals, and has been a monthly lifestyle contributor to CBS The Early Show. His Food Network show, Easy Entertaining with Michael Chiarello, has won three Emmys.
Michael, his wife and children, live in Napa Valley. Over the years, he has cooked for thousands of people, including Hillary Rodham Clinton, Oprah Winfrey, and the sous chef for the Dalai Lama. His website is www.michaelchiarello.com.