Matt Lee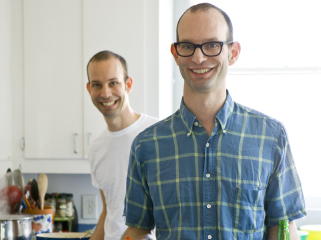 Did you know?
As kids newly transplanted to Charleston, South Carolina, the Lees learned to toss shrimp nets with abandon alongside the neighborhood boys and to use chicken necks to lure blue crabs.
Matt's Featured Recipe
Matt and Ted Lee, who call themselves the Lee Bros., are from Charleston, South Carolina, and, in the words of Chef Bobby Flay: "These guys can cook!" They have written two cookbooks about southern cooking that not only garnered rave reviews from the food press and many admirers in the food world, but explained how they learned "to cook southern without a southern grandmother."
Their books are The Lee Bros. Southern Cookbook: Stories and Recipes for Southerners and Would-be Southerners, and The Lee Bros. Simple Fresh Southern: Knockout Dishes with Down-Home Flavor.
The brothers' first cookbook won two James Beard Awards, including Cookbook of the Year. The book also won two IACP awards, including the Julia Child Award. They are the youngest authors ever to take Cookbook of the Year. Their second book won the IACP Award for Best American Cookbook of 2010.
They are now at work on their third book, The Lee Bros. Charleson Kitchen.
The brothers moved to Charleston from Manhattan when they were boys and although at first they felt adrift in their adopted environment, they soon warmed to the ways of the south, particularly enjoying the food. When they left to attend colleges in the Northeast, they so missed the food that, upon graduation and finding themselves jobless and living in a tiny apartment in New York, they founded The Lee Bros. Boiled Peanuts Catalogue. The mail-order catalogue is for southern pantry staples such as stone-ground grits, fig preserves, and, of course, boiled peanuts.
Ted and Matt soon attracted the attention of a travel magazine editor who asked them to drive around their home state and write about the food. All at once, they were food and travel journalists. They currently write food stories for Travel & Leisure, Food & Wine, and GQ magazines, as well as The New York Times Dining Section, Sunday Magazine and Book Review sections. They are wine columnists for Martha Stewart Living.
They also are commentators for Unique Eats on the Cooking Channel.
The Lee brothers' website is mattleeandtedlee.com.