Mary Garland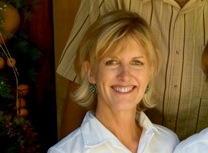 Did you know?
When she commented on Mary and Amanda's cookbook, Deborah Madison wrote: "Between Mary's beautifully told story and stunning photographs, I could smell the sycamores and hear the tumbling waters of Oak Creek."
Mary Garland, with her husband Gary, owns Garland's Lodge in Sedona, Arizona. She and Gary moved to Arizona 30 years ago to take over the family business. The lodge was built in 1908 as a homestead and today sits where it was then, near Oak Creek Canyon.
Mary and the lodge's chef, Amanda Stine, wrote Sharing the Table at Garland's Lodge. The book was nominated as best book in the American cooking category by the International Association of Culinary Professionals.
Mary considers herself a decent cook but confesses to being grateful for Amanda's leftovers.
She and Gary live in Sedona, Arizona, and her website is http://www.garlandslodge.com/
Cookbooks, etc