Martha Greenlaw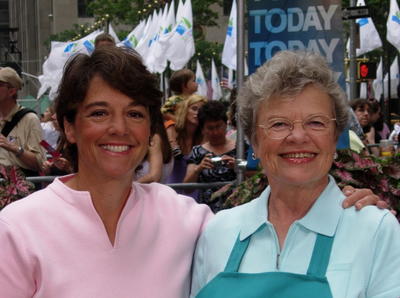 Did you know?
Martha Greenlaw has always loved to cook, so much that her daughter Linda says that the family often went months on end without eating the same thing twice for supper.
Martha Greenlaw's passions are family, cooking, and reading. She was raised on a dairy farm in Winslow, Maine, where she eventually met her husband, James. She was stay-at-home mother, deeply committed to community service, who raised four children and now boasts four grandchildren.
Her cooking style is unschooled, except by her own palate and New England culinary tradition, but Martha's natural curiosity as well as longtime active membership in a gourmet group spurred her on to ever greater culinary heights. Martha's family and friends – and cooking – are her pride and joy. One inspires the other.
Martha and Jim's daughter, Linda Greenlaw, has captained swordfishing and lobster boats and has, since 1999, been a bestselling author of such books at The Hungry Ocean and The Lobster Chronicles.
In 2005, Martha and Linda co-authored Recipes From a Very Small Island. The island is Isle au Haut, Maine, where the Greenlaws currently live and where the family has spent summers for generations. Both mother and daughter contributed recipes to the book and Linda wrote a series of essays offering an insider's view of life on tiny Isle au Haut.
Martha's repertoire is eclectic. The traditional roots of her cooking are to be found in recipes handed down from her mother and aunts. Later, while raising her family, Martha lived in several different cities in the Northeast, gathering recipes from the many cooking friends she made.
Martha continues to travel for book signings. Martha and Jim now spend winters in Florida but always return to Isle au Haut for the warmer months of the year.
Cookbooks, etc