Mario Batali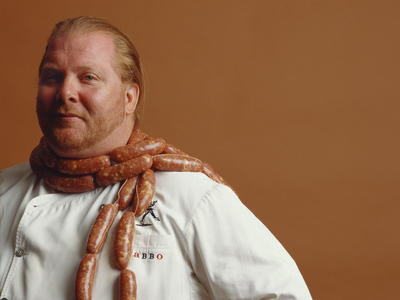 Did you know?
Mario recently teamed up with Marshall Dostal, founder of Further Soap, to cart away 1600 gallons of waste grease each month from Mozza, which will converted into biodiesel and the remaining glycerin will become soap. The soap is destined for the bathrooms at Mozza.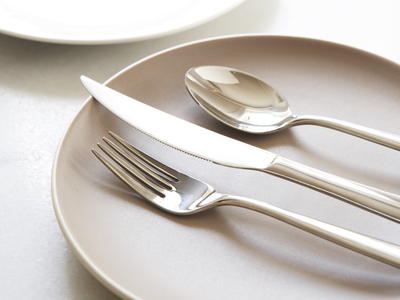 Mario's Featured Recipe
Marinated Vegetables
Mario Batali is a chef, television personality, and author of the bestselling cookbooks, Italian Grill and Molto Italiano. Mario's current venture is a new PBS television show with Gwyneth Paltrow and Mark Bittman called Spain...A Culinary Road Trip.
Mario was the 2005 James Beard Foundation "Outstanding Chef of the Year," and has won numerous other awards. He lives in New York City, where he is the chef and owner of a number of popular restaurants, including two Spanish joints, Casa Mono and Bar Jamón. He recently opened a restaurant in Port Chester, New York, called Tarry Lodge.
Mario was raised in Seattle and apprenticed in London with the legendary chef Marco Pierre White, followed by three years of intense culinary training in the Northern Italian Village of Borgo Capanne. He then settled in New York, "Anxious to plant his orange-clogged foot firmly in the behinds of the checkered tablecloth-Italian restaurant establishment," as he writes on his website, http://www.mariobatali.com.
With his partner Joe Bastianich, he operates eight New York City hotspots, including Babbo Ristorante e Enoteca, Esca and Del Posto, all three of which of which were awarded three stars by Frank Bruni of the New York Times. The duo's first west coast venture, in collaboration with Chef Nancy Silverton, is Osteria Mozza and Pizzeria Mozza in Los Angeles. Mario and Joe recently opened B&B Ristorante and Enoteca San Marco in the Venetian Resort Hotel and Casino in Las Vegas and added Carnevino, an Italian steak house in the Palazzo Hotel, adjacent to the Venetian in February of 2008. The latest project is the Tarry Lodge in Port Chester, New York, which offers delicious New York City-style food and service to commuters nearer their homes.
Mario is also the chef/co-owner of five other restaurants in New York City. Lupa Osteria Romana, Spotted Pig, Casa Mono, Bar Jamón, and Otto Enoteca Pizzeria.
Mario has written a number of cookbooks including Simple Italian Food, Mario Batali Holiday Food, The Babbo Cookbook, and Molto Italiano — 327 Simple Classic Italian Recipes to Cook at Home, the recipient of the prestigious James Beard Award for International Cookbook. Spain; a Culinary Road Trip (co written with Gwyneth Paltrow) was released in October 2008 and became an instant New York Times best seller.
Mario recently launched the Mario Batali Foundation to feed, protect, educate and empower children, encouraging them to dream big while providing them with the necessary tools to become an active force for change in today's world. For more, go to mariobatalifoundation.org
Mario splits his time between New York City's Greenwich Village and northern Michigan with his wife Susan Cahn of Coach Dairy Goat Farm, and their two sons.