Maria Filice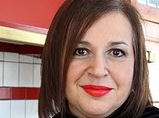 Did you know?
The kitchen served as both the confessional and the center for storytelling when Maria was growing up. Today, her flair for entertaining—including her ease cooking and telling stories—has become her way of welcoming a diverse circle of intellectuals and others into her home.
Maria's Featured Recipe
Maria Filice is a cookbook author, food stylist, and publisher. Growing up in Canada as the daughter of immigrants from Calabria, Italy, Maria learned from the best—her mother, grandmother, and aunts—who she watched in the kitchen from the time she could barely walk. Maria shared those lessons in her first book, Breaking Bread in L'Aquila.
In both her kitchen and her professional life, Maria's philosophy is to live life to its fullest. She recognizes that neither her lack of experience in publishing nor in formally trained cooking could dissuade her from taking risks or diminish her passion. As the publisher of Telos Press, where she is known as Mary Piccone, Maria brings this passion to the academic world, hosting regular events that mix intellectual discussion with the essential ingredients of good food and celebration. Maria's warmth, humor, and gregarious personality make people feel welcome, relaxed, and motivated to discover their own style in the kitchen.
In the fall of 2013, Maria launched Mammaretti by Maria Filice, her signature amaretti cookies, which are dedicated to her mother Amelia. These artisanal bite-size almond cookies are kosher as well as gluten- and lactose-free, and they are currently available for purchase on her website. Just as Maria donated a portion of the net profits from her cookbook to help build a children's playground in L'Aquila in 2010, a portion of the net profits of all Mammaretti will help build playgrounds around the world. Help support her passion by purchasing her products at www.foodandfate.com
Cookbooks, etc