Maria Bruscino Sanchez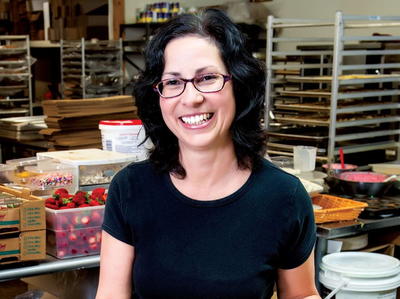 Did you know?
At Sweet Maria's their motto has always been "more than just another pretty cake". It's always important for it to taste as good as it looks."
Maria Bruscino's Featured Recipe
Maria Bruscino Sanchez is the owner of Sweet Maria's Bakery in Waterbury, CT.
Maria has always loved to bake. Living with her mother and grandmother, baking has always been a part of her life. Her first part time job in high school and college was at a local neighborhood bakery. It was there that she earned a lot about production and cake decorating.
After earning a bachelors degree in marketing, she continued to bake cakes at home for family and friends while holding down a day job in advertising. Maria baked and decorated cakes at home and delivered them before work for a growing number of corporate accounts. Many are still customers today.
Maria's passionate hobby slowly became a thriving home business. In 1990, she opened Sweet Maria's in an 1800 square foot space. After nine years, she moved to larger location, occupying 4,000 square feet and employing 12 year-round employees and even more for seasonal staffing.
Her first cookbook, Sweet Maria's Italian Cookie Tray was published in 1995. Three more baking books followed, which can now be found in Sweet Maria's Big Baking Bible. This book compiles all four of Maria's baking cookbooks: Sweet Maria's Italian Cookie Tray, Sweet Maria's Cake Kitchen, Sweet Maria's Itailan Desserts, and Sweet Maria's Cookie Jar, into one must-have volume. Plus The New Lasagna Cookbook offers up easy homestyle recipes for everyone's favorite comfort food.
Maria is a also a frequent contributor to Intermezzo Magazine, and a guest on Better Connecticut.
Cookbooks, etc