Ludovic Lefebvre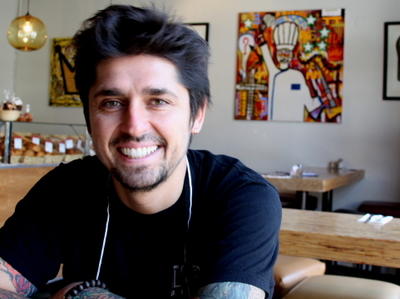 Did you know?
In October 2013, Ludo opened a fried chicken food concept within STAPLES Center, called LudoBird.
Ludovic's Featured Recipe
Ludovic Lefebvre is a chef, restaurateur and cookbook author who was born and trained in France and has made Southern California his home.
Ludo is the author of Crave: The Feast of the Five Senses, which won second place in the cookbook category in the New York Book Show. He categorizes the recipes by the senses, with chapters called See, Touch, Smell, Hear, and Taste. His other book, Ludo Bites, includes recipes and stories from his pop up restaurant in Los Angeles. 
When Ludo told his parents he wanted to be a chef, his father took him to a local restaurant in Burgundy called Maxime, believing the menial labor would discourage him from that particular career path. The plan backfired, and Ludo, who was in his early teens at the time, fell in love with restaurant work.
He went on to work at other restaurants in the country of his birth, including 13 years with Chef Marc Meneau at L'Esperance in Vézely. He also worked with Pierre Gagnaire at his eponymous restaurant in Saint-Etienne, with Alain Passard at L'Arpége, and with Guy Martin at Le Grand Vefour.
Ludo moved to Los Angeles when he was in his twenties and worked at L'Orangerie, where he was promoted to head chef at the age of 25. The restaurant won the Mobil Guide five-star award. When he moved to Bastide, he also won the Mobil Guide five-star award. That restaurant closed for renovations and Ludo moved on to create the menu for Lavo, a restaurant in Las Vegas. A year later, he returned to LA and opened Ludobites.
Ludo is now being credited with carrying the flag for Los Angeles modern fine dining, with Trois Mec, his first brick and mortar restaurant opened in April 2013 in partnership with chef friends, Jon Shook and Vinny Dotolo. Trois Mec has earned 4 stars from both Los Angeles Magazine and LA Weekly, been named Best New Restaurant by both publications, and made Zagat's list of Top 10 Hottest Restaurants in the World for 2013. The following year Ludo opened Petit Trois right next to Trois Mec.
He lives in Los Angeles with his wife and two children.  Website: http://www.ludolefebvre.com/
Cookbooks, etc