Lori Lyn Narlock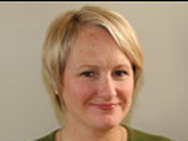 Did you know?
Lori is an avid collector often driving around town scouting estate sales for vintage kitchen items.
Lori Lyn Narlock is an author who writes about wine, food, and travel. Lori also works as a public relations manager in the wine industry. She has developed hundreds of recipes for wineries in Napa and Sonoma to pair with wine.
Lori started cooking professionally in her early 20's, and wrote her first cookbook in 1996. She has since authored a dozen books about food, wine and entertaining, including "Small Plates, Perfect Wines," "The Wine Lover's Guide to the Wine Country," "The Food Lover's Companion to the Napa Valley," and "Cocktail Food."
Her writing has appeared in a variety of publications including Fine Cooking, the San Francisco Chronicle, and San Francisco magazine.
She currently resides in Napa Valley, California where she spends her weekends testing new recipes and developing cookbooks.
Lori's recipes can be found on her website: http://winecountrycook.com/.