Linda Greenlaw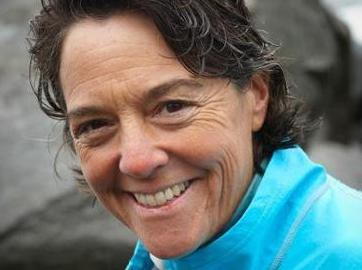 Did you know?
To help pay her way through college, Linda worked as a cook and deckhand aboard the sword-fishing boat Walter Leeman during her summers.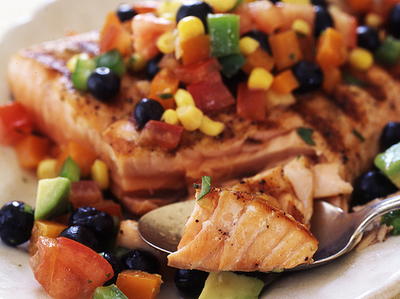 Linda's Featured Recipe
Grilled Salmon with Fresh Blueberry Corn Salsa
Linda Greenlaw is the bestselling author of The Hungry Ocean, The Lobster Chronicles, and All Fishermen Are Liars, and is the first and only female swordfish captain in the Grand Banks Fleet. Born in Connecticut, she was raised in Maine and graduated from Colby College.
After swordfishing for many years, Linda moved to writing. This came after Sebastian Junger's depiction of her in his book, The Perfect Storm, and the portrayal of her in the subsequent film of the same name.
"Publishers basically invited me to write something," Linda explains, and her first book, The Hungry Ocean, was published in 1999. It became a New York Times bestseller, as did her two subsequent memoirs, The Lobster Chronicles (2002) and All Fishermen Are Liars (2004). Linda is the winner of the U.S. Maritime Literature Award in 2003, and the New England Book Award for nonfiction in 2004.
In 2007, Linda turned to fiction, with her mystery, Slipknot, followed in 2008 by Fisherman's Bend.
In 2005, Linda coauthored Recipes From A Very Small Island with her mother, Martha Greenlaw. The island is Isle au Haut, Maine, where the Greenlaws currently live and where the family has spent summers for generations. Both mother and daughter contributed recipes to the book and Linda wrote a series of essays offering an insider's view of life on tiny Isle au Haut, including one on the improbabilities of pulling off an authentic clambake. In 2011, they published their second cookbook, The Maine Summers Cookbook: Recipes for Delicious, Sun-Filled Days.
She has been featured on Good Morning America, Today, CBS Sunday Morning, The Martha Stewart Show, and National Public Radio. When Linda is not touring, she lives on Isle au Haut, where she captains a lobster boat. Her
website is http://lindagreenlawbooks.com/.
Cookbooks, etc