Leslie Cerier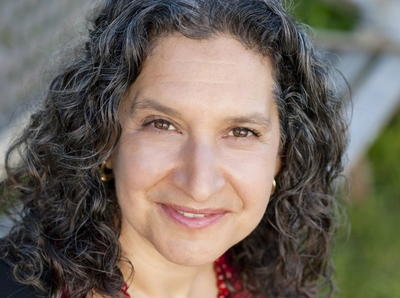 Did you know?
One of Leslie's cooking mantras is "Let the local organic produce of the season guide the recipe." She says that cooking with the seasons encourages both novices and seasoned cooks to follow their instincts and get wildly creative with the available bounty.
Leslie's Featured Recipe
Leslie Cerier, "The Organic Gourmet" is an internationally recognized chef, educator, author, recipe developer, " green" farm to table consultant to universities, institutions and individuals specializing in local, seasonal, organic, vegetarian, vegan, and gluten-free cooking for health, vitality and pleasure. She is passionate about helping people expand their palettes and leads cooking workshops and chef trainings all over the world.
Leslie's is the author of six cookbooks; Going Wild in the Kitchen; Gluten-Free Recipes for the Conscious Cook; Visionary Cooking; Food for the Eyes; Taste Life! Organic Recipes; Sea Vegetable Celebration; and The Quick and Easy Organic Gourmet.
Her approach to cooking is to view it as a creative sport and to celebrate the earth's bounty. She encourages her students and readers to cook vegetarian dishes that enhance the immune system, strengthen bones, and increase energy. She also urges everyone to eat locally and seasonally as ways to reduce their carbon footprints.
Leslie has developed recipes for natural food companies, including Nutiva, Equal Exchange, Green and Blacks (Organic Chocolate); Coombs Vermont Gourmet (Organic Maple Syrup); Lotus Foods (Jade Pearl Rice and Madagascar Pink Rice); and The Teff Company.
She has appeared on the Food Network, WGBY PBS, WWLP TV, and numerous national radio programs.  She has been featured in Organic Spa magazine, Organicauthority.com, and The Huffington Post.  Leslie's recipes have also been features on dozens of websites, blogs, and food packages including: Bob's Red Mill Natural Food, Navitas Naturals, Shiloh Farms and more.
Leslie teaches classes in some of the most prestigious centers of holistic evolution and organic lifestyle. She has lectured and taught cooking classes at Frontier Natural Products Co-op's Herb Fest, Northeast Organic Farming Association, Natural Gourmet Institute for Food and Health in New York City, and Whole Foods New England Demo Group on behalf of Simply Organics. Her website is lesliecerier.com/.
Cookbooks, etc