Leeann Chin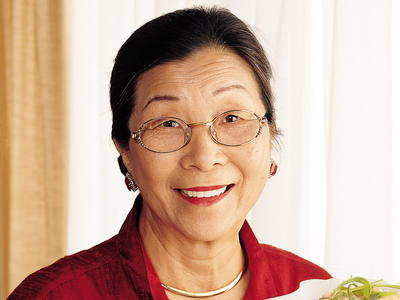 Did you know?
Leeann developed her love for cooking and her business sense working in her father's family market in Canton, China. At the same time, she developed a fascination with the United States by watching American-made movies. As a young woman, she emigrated with her husband Tony in 1956.
Leeann Chin was a business owner, restaurateur, cookbook author, caterer, television personality, and consultant who lived most of her adult life in Minneapolis, Minnesota, after a childhood in Canton, China.
She and her daughter Katie wrote Everyday Chinese Cooking, published in 2000. Previously, Leeann had written Betty Crocker's Chinese Cookbook, Recipes by Leeann Chin and Betty Crocker's New Chinese Cookbook, Recipes by Leeann Chin, both for General Mills.
Leeann, who died in March 2010, was the founder and owner of Leeann Chin, Inc., the leading brand for Chinese food in the Midwest, with more than 50 locations that includes buffets, take-out, and grocery store locations. The company generates more than $40 million in sales and employs more than 1000 people.
Leeann's road to success began when, as a young immigrant, she opened a home-based sewing and alterations business. She occasionally cooked meals for her clients and in 1972, she began teaching Chinese cooking classes. She expanded this business into a catering company and in 1980, opened her first restaurant in Minnetonka, Minnesota.
The restaurant was financed by a loan from the Small Business Administration, but she also got backing from actor Sean Connery, who had met Leeann at a party she catered for the Minnesota Twins. She was also supported by actor Robert Redford in those early days.
In 1985, Leeann sold her growing chain of restaurants to General Mills, a Fortune 500 company. Three years later she reacquired Leeann Chin Chinese Cuisine, with the goal of returning the company to its original format and to explore areas for expansion.
In more recent years, she joined her daughter Katie to found Double Happiness Catering and to co-host, with Katie, Double Happiness on PBS. Leeann and Katie also co-hosted the Food Network Special, My Country My Kitchen—Eat Drink Mother Daughter, filmed on-location in China and Hong Kong.
Leeann won numerous awards including "Business Owner of the Year" by the National Association of Women Business Owners in 1998.
Cookbooks, etc