Kitty Morse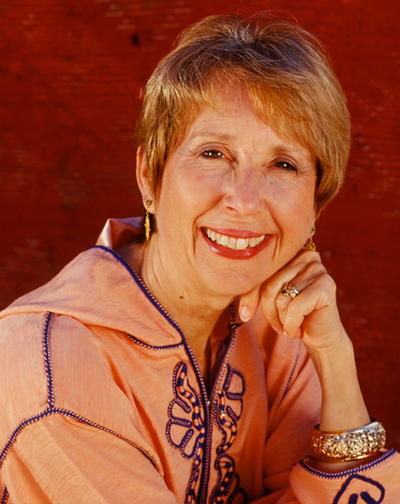 Did you know?
While studying for her master's degree at the University of Wisconsin-Milwaukee, Kitty catered Moroccan diffas — banquets — and from there her interest and knowledge of the cuisine deepened.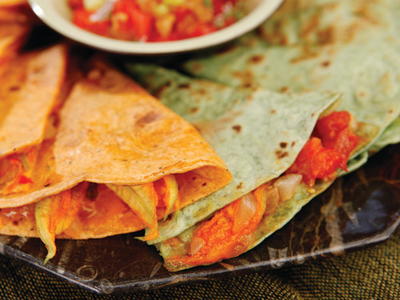 Kitty's Featured Recipe
Quesadilla with Pico de Gallo
Kitty Morse is a cookbook author, lecturer and expert on the cooking of North Africa, and Morocco in particular. She also is well regarded for her work in promoting seasonal cooking and responsible agriculture.
She is the author of nine books: The Scent of Orange Blossoms: Sephardic Cuisine from Morocco; Couscous: Fresh and Flavorful Contemporary Recipes; Cooking at the Kasbah: Recipes from my Moroccan Kitchen; A Biblical Feast: Foods from the Holy Land; A Biblical Feast: Ancient Mediterranean Flavors for Today's Table; The Vegetarian Table: North Africa; Edible Flowers: A Kitchen Companion with Recipes; 365 Ways to Cook Vegetarian; and The California Farm Cookbook.
She currently is working on a memoir called Mint Tea and Minarets: A Memoir of Morocco with Recipes.
Kitty, whose mother was French and her father British, was born in Casablanca, Morocco, and moved to the United States when she was 17. She organized and led annual tours to Morocco from 1983 until 2007, which included culinary demonstrations in her family home, a Moorish riad south of Casablanca.
She has lectured across the country, including twice at the Smithsonian Institution in Washington, D.C. She also has spoken at The Book and the Cook event in Philadelphia; been a featured presenter for the Chicago Culinarians; the Los Angeles Times Festival of Books; the City of Chicago; the California Farm Conference; the convention of the International Association of Culinary Professionals; Kraft Foods USA; the Golden Door Spa; and, on three occasions at the Ahwahnee Hotel's annual Chef's Holiday in Yosemite National Park, as well as many other venues.
Kitty has been a guest on public radio and has been interviewed a few times by the BBC. She has been a guest on Sarah's Secrets, hosted by Sarah Moulton of the Food Network; all national affiliates in San Diego; as well as Morocco's national television and Baja, California's (Mexico) Canal Azteca. Her two-part series, Fresh from the Farm, which she produced and hosted in 1994, still airs on cable channels in San Diego County. For more than a year, she had a regular spot on California Heartland, a weekly, statewide series focusing on California's agriculture.
A resident of California, Kitty's website is kittymorse.com/