Katie Chin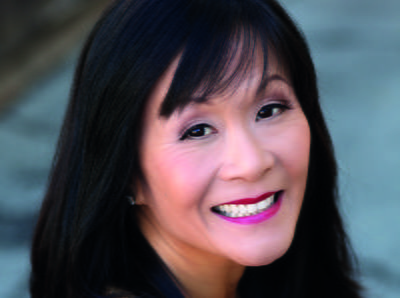 Did you know?
Katie currently serves as the Culinary Ambassador to City of Hope and its Super Foods initiative. In her role as Culinary Ambassador, Katie was the featured celebrity chef at the White House's annual Egg Roll for Easter.
Katie's Featured Recipe
Pineapple Fried Rice
Katie Chin is a cookbook author, chef, television personality, beverage and food consultant and spokesperson, and an expert on entertaining and the Asian lifestyle.
She is the author of Everyday Thai Cooking, 300 Best Rice Cooker Recipes, and co-author of Everyday Chinese Cooking. Katie wrote Everyday Chinese Cooking with her mother Leeann Chin, an award-winning restaurateur. She also hosted the PBS series Double Happiness with Leeann.
Although Katie learned to cook at her mother's side when she was growing up in Minneapolis, when she graduated from college she says she abandoned cooking in favor of more "contemporary cuisine"—take-out, restaurant fare, and Haagan Dazs.
At the time, Katie was living in Los Angeles and working as a film and television marketing executive. Her mother encouraged her to start cooking more at home, advice that resonated with her. She quit her job and opened a catering company called Double Happiness Catering.
The company specialized in Pan-Asian cuisine. Katie found herself catering events for the entertainment and fashion industries, often preparing food for celebrities. It didn't take long before she had earned a stellar reputation.
From there it was a short hop to her book, her television program and work as a consultant and spokesperson. She also joined forces with her mother, and the two took the culinary world by storm.
Katie has appeared on the Today Show and worked on specials for the Food Network and Fine Living. She recently served as a guest judge on the Food Network's Iron Chef America. She has been featured in Glamour, Family Circle, Cooking Light, Bon Appetit, Self Magazine, Angeleno Magazine, Hampton Magazine, Elle Magazine, Daily Candy, Daily Variety, Real Simple, The Los Angeles Times, and Ventura Blvd Magazine. Katie recently served as a guest judge on Food Network's Iron Chef America and as a featured guest on Cooking Channel's Food(ography) and Good Day New York.
Katie shares a passion for Asian cuisine, style and culture. She says she is committed to teaching the American public that the very best Asian cooking can be achieved in a real home kitchen, by real people, on real schedules.
When not testing out her new recipes on family and friends, she divides her time as a private chef and culinary consultant in Los Angeles, CA. working on her next cookbook, throwing karaoke dinner parties and caring for her toddler twins. Katie's website: www.thesweetandsourchronicles.com.