Kathleen Sloan-McIntosh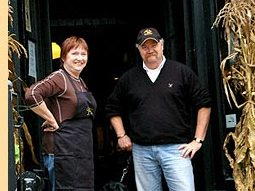 Did you know?
The normally serene town of Bayfield heats up for three days in August for a progressive jazz festival sponsored by the Black Dog Pub and Bistro. Musicians play a the pub other times of year, too. This year some are Billy the Kid, Melissa McClelland, and Luke Doucet.
Kathleen's Featured Recipe
Chinese Baby Back Ribs
Kathleen Sloan-McIntosh, cookbook writer and recipe developer, owns the Black Dog Village Pub and Bistro in Bayfield, Ontario, with her husband, Ted. They also own The Black Dog Pantry, a specialty food shop. Both businesses sit on the main street in downtown Bayfield. The pub is located in an old, restored building built circa 1850.
Kathleen is the author of several cookbooks, including 300 Best Potato Recipes; 100 Best Grilling Recipes: BBQ Food from Around the Word; Simply the Best: Food and Wine from Ontario's Finest Inns; New Celtic Cooking; and A Year in Niagara: the People and Food of Wine Country.
Kathleen prides herself on running a "true Canadian establishment" and offers a comprehensive list of single malt and Irish whiskeys.
Kathleen and Ted live in Bayfield, Ontario. Not surprisingly, they have a black Labrador retriever called Danny. Her website is http://www.blackdogpubbistro.ca/.