Karen Graham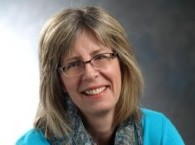 Did you know?
Karen began her life in Nairobi, Kenya. The great continent of Africa inspired her to enjoy the outdoors and all sorts of foods. She went on to study food and health and devote her life to helping people.
Karen's Featured Recipe
Karen Graham is a registered dietitian and certified diabetes educator. For 25 years she has worked as a community nutrition educator and serves as the program coordinator for three diabetes education centers in Manitoba, Canada.
Karen's books are The Complete Diabetes Guides for Type 2 Diabetes and Diabetes Meals for Good Health
She writes primarily about nutrition and diabetes and focuses on natural solutions to help prevent some conditions and to improve health overall.
Karen speaks regularly about health and wellness. She also has been interviewed widely on Canadian and U.S. radio and television.
She belongs to Dietitians of Canada, College of Dietitians of Manitoba, the Diabetes Educator Section of the Canadian Diabetes Association and the National Aboriginal Diabetes Association.
In 1997, she was awarded the "Outstanding Performance in Community Nutrition Award" by the Manitoba Association of Registered Dietitians.
Karen currently lives in Portage la Prairie, Manitoba, Canada. Her website is karengraham.ca/
Cookbooks, etc