Julie Peacock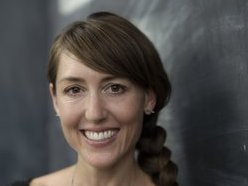 Did you know?
Julie credits Alice Waters, Mollie Katzen and Deborah Madison with informing and inspiring her love and appreciation of what both sustains and connects us.
Julie's Featured Recipe
Julie Peacock is a nutritionist and yoga teacher. She has long been interested in the many ways that food connects people. As she watched her mom prepare meals for the family, Julie noticed that she often made extra to share with others - a tray of lasagna for new neighbors, blueberry muffins for newcomers at church, additional quarts of chicken and rice soup for an ailing friend. Food meant many things - nourishment, sustenance, enjoyment - but it was meant to be shared.

Becoming part of an intentional food-sharing community felt natural when she found herself congregating regularly with congenial foodies in the course of child rearing. The Soup Club Cookbook is born of her collaboration with co-authors Courtney Allison, Caroline Laskow and Tina Carr with whom she's been sharing soup on a regular basis since 2011.

Julie lives in New York City with her husband and three children. 
Cookbooks, etc