Julie Kramis Hearne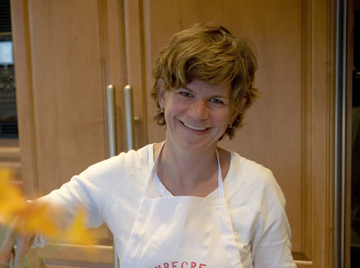 Did you know?
Julie has always loved food. As a child, she watched her mother teach cooking classes and she often accompanied het to classes with James Beard.
Julie's Featured Recipe
Julie Kramis Hearne is a writer, chef, and former restaurant owner. With her mother Sharon, she has written three cookbooks.
The books are The Cast-Iron Skillet Cookbook, The Dutch Oven Cookbook and, most recently, The Cast-Iron Skillet: Big Flavors.
Julie owned two successful restaurants in Seattle and today is a food consultant and food stylist. She also teaches cooking classes and contributes recipes to Rachel Ray and Paula Deen for their magazines.
For the last ten years, she has donated her culinary talents to raise money for charities such as Heart Hope Institute and the Cystic Fibrosis Foundation.
Julie studied Food Science and Nutrition at Seattle Pacific University. She continued her culinary studies at The Culinary Institute of America at Greystone in California. She trained with Chef Jerry Traunfeld at the Herbfarm restaurant in Woodinville, Washington.
Julie lives in Seattle with her husband Harker and their three sons, Reilly, Konrad and Andrew. Visit her websitet: http://whatsjuliecooking.com/ .
Cookbooks, etc