Julia Child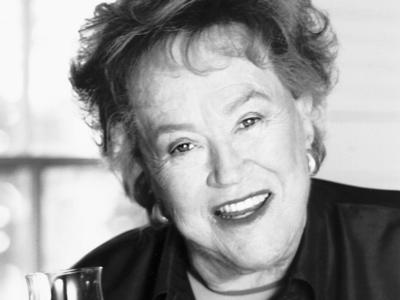 Did you know?
Julia Child often described her first French meal of oysters, sole meunière, and fine wine as a culinary revelation. She recalled the experience once in The New York Times as "an opening up of the soul and spirit for me".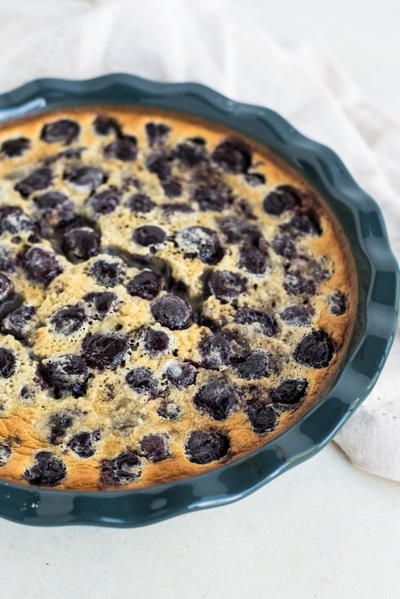 Julia's Featured Recipe
Cherry Flan
Julia Child, a towering figure on the culinary front for more than 40 years, turned the art of French cooking into prime-time television entertainment and taught a generation weaned on can-opener casseroles how to cook fine food. With her ground-breaking books, Mastering the Art of French Cooking I and II, and her 10-year run as the exuberant host of the PBS television series, The French Chef, Julia demystified French cuisine in a way that had not been done before.

Julia McWilliams was born in Pasadena, California, in 1912. The well-to-do family employed a cook and Julia was later to confess that she rarely, if ever, entered a kitchen until she was married at 34. A graduate of Smith College and a veteran of World War II, in 1946 she wed Paul Child, a fellow member of the Office of Strategic Services (OSS) whom she had met in Ceylon. Paul Child loved art, good living, and good food. When her husband was assigned to the Paris office of the United States Information Agency in 1948, Child quickly enrolled in the Cordon Bleu school of cooking. There she joined with Louisette Bertholle and Simone Beck to found l'École des Trois Gourmandes (the school of the three gourmands) and the three set to work writing a cookbook of French recipes for the American audience.
Editor Judith Jones at Alfred A. Knopf decided that this was the book that Americans had been waiting for and the first volume of Mastering the Art of French Cooking appeared in 1961. The second volume, coauthored by Child and Beck, followed in 1970. Together, the encyclopedic volumes introduced "the servantless American cook" to the classic techniques and terminology of French cooking translated into American terms for American kitchens.

As revolutionary as Mastering was, it was her simultaneous debut as a television cook that took the country by storm and solidified her fame. An unlikely star with her imposing height and wonderfully distinctive warbly voice, Julia was a self-described natural ham. "I fell in love with the public, the public fell in love with me, and I tried to keep it that way," said Julia later in her life.
What made Julia such an influential teacher was her good-humored insistence that home cooks could find even complicated French dishes within their grasp if they carefully followed directions. She boned ducks, simmered bouillabaisse, stuffed sausages, poached quenelles, and broke down a huge monkfish. Mistakes were part of the process, not the end of the world, and dropped pots and cracked pastry crusts were part of the show. On one segment, when she flipped a potato pancake and it flew out of the skillet, Julia tossed it back into the pan, pressed it into shape and famously said, "Remember, you're alone in the kitchen!"

Julia, who has been credited with stimulating a boom in French restaurants, an explosion of fancy food markets, and with inspiring Americans to share her obsession with good French food, always insisted that her original book and program benefited from "a concatenation of factors" in the early 1960s – Jacqueline Kennedy raising awareness of all things French, growing affluence, cheaper air travel, and an increased desire for more sophisticated food.
After The French Chef run ended in 1973, eight more television series followed over the next decades. Usually a series was followed by a book of similar title, so that her publishing output was as prolific as her broadcasting. By the end of her life she had published more than 15 titles, including what she considered her magnum opus, The Way to Cook, in1989. In the 1990s Julia starred in a series featuring guest chefs: Cooking with Master Chefs, In Julia's Kitchen with Master Chefs, Baking with Julia, and Julia Child & Jacques Pépin Cooking at Home. She collaborated with Jacques Pépin many times on television programs and cookbooks and the two were devoted friends.

Over the course of Julia's long career she tirelessly promoted the culinary arts. She was the first woman inducted into the Culinary Institute of America's hall of fame, she helped establish the American Institute of Wine and Food and later, Copia: The American Center for Wine, Food and the Arts. Julia was also active in the International Association of Culinary Professionals. For her 90th birthday, restaurants all across the country staged dinners in her honor to raise money for IACP to conduct culinary research in France. She received the French Legion of Honor in 2000 and the U.S. Presidential Medal of Freedom in 2003.
Julia Child died at the age of 91 in August 2004. Her passing generated an outpouring of affectionate, poignant tributes from all over the globe.
Bon Appétit!