Julee Rosso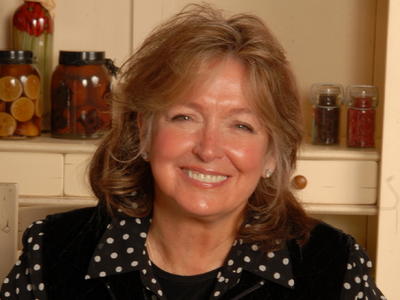 Julee's Featured Recipe
Julee Rosso is a food writer, teacher, and consultant to the food industry. When, in 1977, Julee and her friend and business partner Sheila Lukins opened a small gourmet food shop in New York City, little did the two women realize how it would change their lives. It was called the Silver Palate and practically overnight became a great favorite with Manhattenites who until then were not in the habit of buying high-end, take-out food. In the 1980s they wrote The Silver Palate Cookbook with Michael McLaughlin. The book was a runaway best-seller and was followed by The Silver Palate Good Times Cookbook and The New Basics. Together, these books have more than six million copies in print.

Julee's book Fresh Start was published in 1996, following publication several years earlier of Great Good Food. The Silver Palate Good Times Cookbook won the IACP award for the Best Entertaining Cookbook of the Year and in 1992 The Silver Palate Cookbook was inducted into the James Beard Cookbook Hall of Fame. For six years Julee served as co-food editor for Parade Magazine's column "Simply Delicious." Her contribution to the specialty food business has been recognized through numerous awards and she has been inducted into the "Who's Who" of American Food and Beverage by the James Beard Society.

Julee has appeared on many television and radio programs around the country, including NBC's Today Show, ABC's Good Morning, America, and 20/20.

Julee conducts cooking classes and lectures at numerous universities and symposia throughout the United States, including Stanford University Business School, Women's Economic Development Association, New York University, The Symposium of American Cuisines, The American Institute of Wine and Food Conference, the Smithsonian Institute, and The Wharton School of Business. She continues to write and is a business consultant, sitting on boards such as the National Association for the Specialty Food Trade, The Culinary Institute of America, and the American Institute of Wine and Food.

A 25th Anniversary update of The Silver Palate Cookbook was published recently. Her website is www.juleerosso.com.