Joyce Goldstein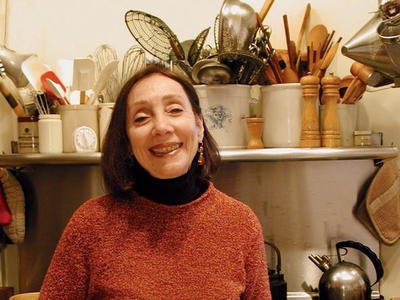 Did you know?
Joyce believes that "spices, herbs and aromatics are the sex appeal in most recipes."
Joyce's Featured Recipe
A consultant to the restaurant and food industries, Joyce Goldstein's areas of expertise are recipe development, menu design, and staff training. She improves existing recipes, adds new ones to complement menus, and works with culinary staff to refine flavors and execution.

For 12 years Joyce was chef and owner of San Francisco's ground-breaking Mediterranean restaurant, Square One. Her menu presented the foods of Italy, Spain, France, Greece, Turkey, the Middle East and North Africa. Square One won numerous awards for food, wine and service. Joyce also ran Caffe Quadro, which served pizza and sandwiches next door to her flagship Square One.

Prior to opening Square One, Joyce was chef of the Cafe at Chez Panisse for three years. She also served as visiting executive chef of the Wine Spectator Restaurant at the Culinary Institute of America at Greystone in the Napa Valley.

Joyce was founder and director of the California Street Cooking School, San Francisco's first international cooking school, and taught kitchen design for the University of California's Department of Architecture. She was elected to Who's Who in Food in 1985, and was voted San Francisco Focus Magazine's Chef of the Year in 1992. She received the James Beard Award for Best Chef in California for 1993, and in 2005 was awarded the Lifetime Achievement Award from Women Chefs and Restaurateurs.

Joyce is a prolific cookbook author and many of her books have won awards. In1989 she published The Mediterranean Kitchen, and in 1992, Back to Square One won both Julia Child and James Beard awards. Joyce went on to publish more than 20 cookbooks. She also writes for many magazines such as Fine Cooking, Cooking Light, and Food & Wine, Vegetarian Times, and the Sommelier Journal. She currently contributes wine and food pairing columns for the San Francisco Chronicle.

Joyce is a founding member of the Board of Directors of the Association of Women Chefs and Restaurateurs and serves on the Awards Committee for the James Beard Foundation. Her website is www.joycegoldstein.com.