John Shields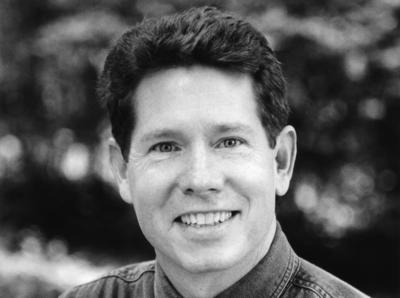 Did you know?
John Shields studied music, with aspirations of becoming a rock star. His career path changed when he subbed for an injured friend in a Cape Cod restaurant kitchen.
John's Featured Recipe
John Shields, chef and food writer, is host of the PBS television show Coastal Cooking with John Shields.

A native of Baltimore, Maryland, John's culinary career began informally when, at a very early age, he worked with his grandmother, Gertie Cleary, in a church hall kitchen. They fixed businessmen's luncheons and parish fund-raising dinners for dozens to hundreds of guests. Gertie used the seasonal ingredients available in the Chesapeake Bay area.

His more formal career began somewhat by accident. After studying at the Peabody Conservatory of Music, John moved to Cape Cod to play in piano bars while following his aspirations of becoming a rock star. One day an injured friend asked John to work his shift in the kitchen of a popular Cape Cod inn, and he was hooked.

In the 1980s, John moved to northern California, where he joined the food revolution taking place at that time. After working at A La Carte in Berkeley, he opened his own restaurant, named it for his grandmother, and began to introduce San Francisco Bay area residents to the regional American fare of the Chesapeake Bay. Gertie's Chesapeake Bay Café was located in Berkeley's famous "gourmet ghetto," where culinary stars such as Alice Waters, Jonathan Waxman, and Jeremiah Tower were reinventing American cooking.

Nearly two decades, and many, many crab cakes, later, John made his way back to Baltimore, where he now lives. He owns and operates an award-winning restaurant, Gertrude's at the Baltimore Museum of Art, clearly still paying homage to his grandmother.

John is the author of three award-winning cookbooks on the cuisine of Chesapeake Bay: The Chesapeake Bay Cookbook; The Chesapeake Bay Crab Cookbook; and Chesapeake Bay Cooking with John Shields.
In 1998 PBS began airing John's series Chesapeake Bay Cooking, and is currently airing John's show, Coastal Cooking with John Shields.

John's writings have appeared in several national publications, including the New York Times, Washington Post, Coastal Living, Southern Living, and Esquire. He is a frequent guest chef on radio and television, and he teaches classes around the country.

Currently, he writes a column for the monthly magazine, baltimore eats, and contributes to the quarterly, Edible Chesapeake. He is an active member of several community and professional organizations, including the Chesapeake Bay Foundation, the International Association of Culinary Professionals, Chesapeake Sustainable Business Alliance, Slow Food, and the Chefs' Collaborative.
Cookbooks, etc