John Coletta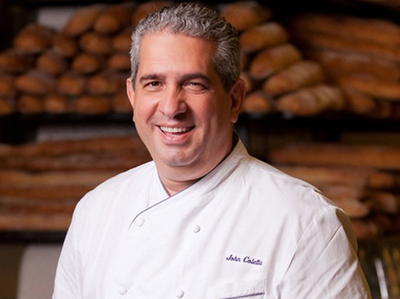 Did you know?
John is a first-generation Italian-American chef. He was born in New York City one year after his parents emigrated from Italy. With his father previously being a professional chef in Rome and his mother an excellent Italian home cook, Coletta quickly cultivated a passion for Italian cuisine.
John's Featured Recipe
John Coletta is a chef, restaurant owner, and cookbook author. Coletta first began working in the industry as a teenager, when he would spend his summers working at a family-owned restaurant in Italy. After graduating from New York City Technical College with a degree in Hotel Restaurant Management, Coletta worked at some of New York's top restaurants including The Waldorf Astoria, the Four Seasons restaurant, and Le Coup de Fusil.


Coletta has trained under legendary chefs like Alain Ducasse and Jel Robuchon. Throughout the years, he has held several positions including chef di cucina at Nikolai's Roof, and executive chef of Caesars Palace Hotel in Las Vegas, where he supervised a culinary staff of over 450 cooks and sous chefs. He also served as an executive chef of the five-star Shangri-la Hotel in Singapore.

After returning to the States, Coletta opened Caliterra Bar & Grille in Chicago's Wyndham hotel in 1999, which the Chicago Sun-Times named as one of the city's ten best Italian restaurants. From there, he joined the Carlucci Hospitality Group, where he designed and opened Carlucci Downers Grove restaurant. In the summer of 2004, Coletta partnered with Steve Lombardo and Larry Shane to create Quartino Ristorante & Wine Bar - an authentic Italian restaurant that the trio still runs today.

Since opening in 2005, Quartino has been featured in several publications including USA Today Travel, Chicago Tribune, and Chicago Sun-Times. Under his leadership, the restaurant also earned the coveted Ospitalit Italiana seal, which is awarded by the Italian government and recognizes restaurants abroad that properly promote the traditions of the Italian food culture. In 2009, Coletta authored and published 250 True Italian Pasta Dishes, a cookbook dedicated to his passion for Italian gastronomy.