Joey Altman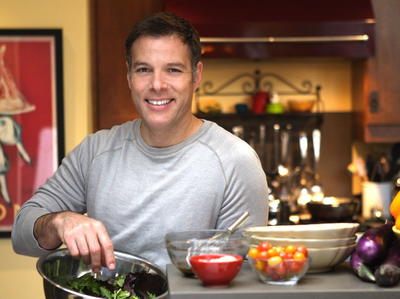 Did you know?
By the time he was in high school, Joey was an aspiring magician who called himself "Altman the Magnificent," was playing guitar in a local rock band, and was working as a short-order cook in a local diner.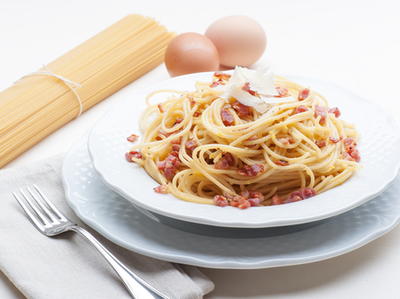 Joey's Featured Recipe
Perfect Carbonara
Joey Altman is a San Francisco-based chef who is a television host, cookbook author, restaurant consultant, food and wine educator, and public speaker.
Joey is the author of Without Reservations: How to Make Bold, Creative, Flavorful Food at Home, which he wrote with Jennie Schacht. In 1998, he launched food-magazine television show called Bay Café, which won the James Beard Award for best local cooking series in 2000, 2001, and 2006. He also hosts Appetite for Adventure and Tasting Napa, programs on the Food Network. Joey also has been the chef-spokesperson for Diageo Chateau & Estate Wines since 2005.
Joey grew up in a resort town in the Catskill Mountains, where his mother worked at the famed Grossinger's Hotel -- one of the top venues on the Borscht Belt entertainment circuit. This meant that Mel Brooks, Bill Cosby, and Lionel Hampton, among other entertainers, were his early inspirations. At the same time, Joey's culinary skills were developed at a young age by cooking at family parties and celebrations.
After college, Joey traveled to France to train with some of France's finest chefs, including Lyon's Bernard Constantin and Jean Brouilly, following the rigorous apprenticeship program of French kitchens. Joey returned to America to work at Harvest restaurant in Cambridge, Massachusetts, with Bob Kinkead, one of the creative forces behind the new American cuisine of the 1980s.
He next worked under Emeril Lagasse at Commander's Palace in New Orleans, after which he continued his travels and culinary adventures in the American South and Southwest, the Caribbean, and Mexico. Upon arriving in the San Francisco Bay Area, Altman worked at Stars and other San Francisco restaurants. He also worked for legendary rock concert impresario Bill Graham, cooking backstage for people like Sting, Eric Clapton and the Grateful Dead.
Joey was most enchanted by dishes inspired by the cooking of the Caribbean and Africa that he created at Miss Pearl's Jam House, which he opened with SOMA pioneer restaurateur Julie Ring and Jeff Gradinger in 1989. This experience catapulted him to the forefront of the highly competitive Bay Area restaurant scene.
Today, Joey appears at many benefits and food-related events in the Bay Area and around the country. He also plays guitar in the Backburner's Blues Band, a blues-rock group composed of other Bay Area chefs and food professionals. The group occasionally jams at San Francisco rock clubs and plays local benefits.
He lives in San Francisco with his wife, son, and two daughters. His website is http://www.joeyaltman.com/JoeyAltman/Without_Reservations.html